Are you looking for a vegan, oil free, gluten free, plant based cheese sauce? I think everyone who follows the Starch Solution has their own version of this simple but delicious and versatile cheese sauce. So this may be new to you or a repeat. This is how I make mine but I switch it up literally weekly by adjusting my spices. Throw in a red pepper it it gives this a nacho taste. Add taco seasoning, Chipotle peppers, honestly, you can make this as plain or spiced up as you want.
Now this is not and I repeat is not going to taste just like cheese, but it looks like a cheese sauce, acts like a cheese sauce and for me and a lot of other people works as a great, low calorie Starch Solution replacement. I love this sauce and put it on everything!! I hope you enjoy it.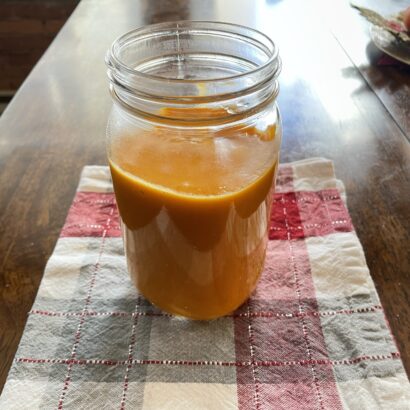 Vegan Cheese Sauce (Starch Solution)
Ingredients
1 1/2

cups

potatoes, peeled and chopped

2

large

carrots, peeled and chopped

1/4

cup

raw cashews(soaked or boiled with vegetables)

this can be omitted if preferred

3

tbsp

nutritional yeast

1

tsp

garlic powder

1

tsp

onion powder

pinch

cayenne

1

tsp

white miso

1/2

tsp

smoked paprika

salt and pepper to taste

1/4

tsp

turmeric
Instructions
Soak cashews overnight if using. If you have forgotten to soak your cashews you can boil them while cooking the potatoes and carrots.

Peel potatoes and carrots and chop into bite size pieces. The smaller the pieces the faster they will cook. Boil in pot until tender.

Transfer the potatoes, carrots and cashews(if using) to blender. Reserve remaining liquid. Add remaining ingredients including 1/3 cup of reserve liquid. Blend until smooth. If mixture is still too thick continue to add a tablespoon of liquid until you obtain the consistency you want. Adjust the seasoning to your preference.
Video