If you think following the Starch Solution or a vegan diet is difficult then I'm here to show you how easy it can be. Remember, Rome was not built in a day, and I highly suggest with anything to ease into new things. Now, some people can do things cold turkey. Wake up one fine morning denounce animals products and become a vegan, plant based and oil free. But for people who have followed the Standard American diet for many years and have believed that milk is good for you and that you need to get your protein from meat. This might be a very hard leap in one day. There is a lot of education needed to bridge the gap and learning to get enough protein, fiber, minerals to actually be healthy on a plant based diet . How can you eat potatoes and be healthy? Starches are bad for you? We all have to overcome these myths.
We are going to start the day with one of the most versatile grain, oatmeal! Yes, that's right, you can have cooked oatmeal, overnight oats, baked(one of my favorites) and the flavors are only limited by your imagination. You can never get bored with oatmeal and oatmeal is great for helping to lower your cholesterol.
Today I choose blueberry oatmeal, blueberries are considered a superfood and are high in antioxidants, vitamin C, K and Manganese and also great to help in decreasing your LDL cholesterol levels. I also choose to top my oatmeal with a banana, hemp hearts and sunflower seeds, for extra health benefits.
Hemp seeds have a great source of magnesium which helps regulate your heartbeat and is linked to the prevention of coronary heart disease, and may help reduce cholesterol levels. Other benefits include a source of protein, fiber, vitamin E, potassium, iron, zinc and can help reduce inflammation, so why wouldn't you added a tablespoon to your oatmeal?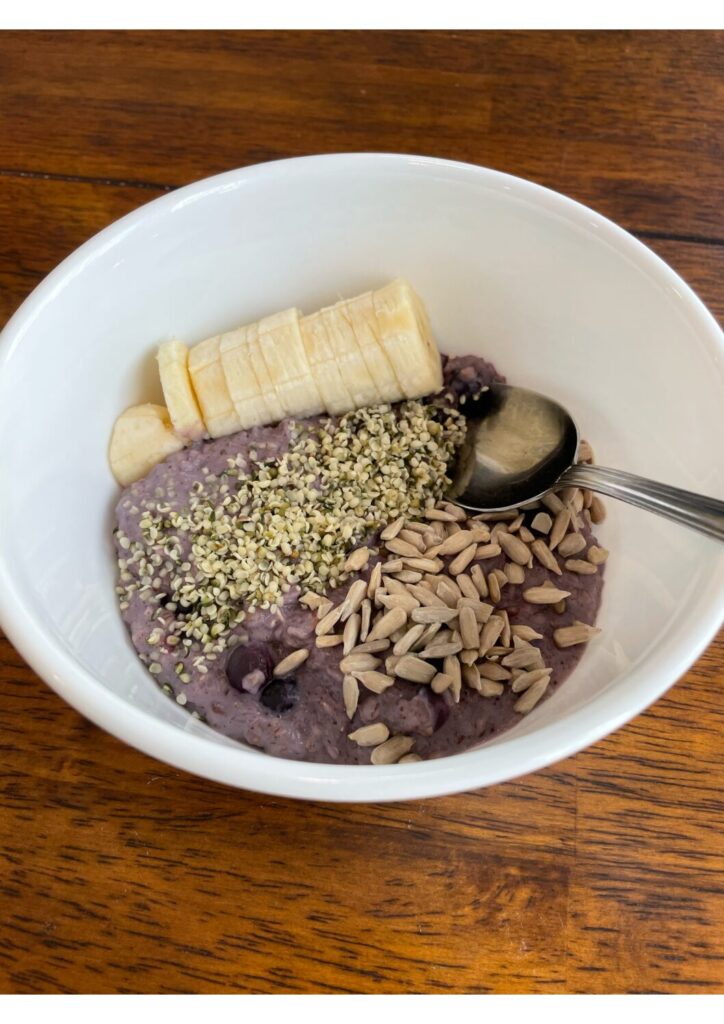 Lunch is a simple 50/50 plate, half starch and half non starchy vegetables. Again, meal prepping helps keep your life simplified. You will always have great food ready to go and you can just pick and choose what you're in the mood for. Today, I'm simply going to air fry some potatoes into fries and make a quick salad. I always have oil free dressing on hand. I have a video of some of my favorite ones (https://youtu.be/2Mbr6cuKaVU). But even a squeeze of fresh lemon and pepper great, fresh and in my opinion lovely. So lunch took me 10 minutes, while my fries were in the air fryer I through my salad together and done. So easy, remember you don't have to make elaborate meals every time.
After a long day of work sometimes you don't have the energy to cook and you want to order out. Put the phone down and I'm to show you how to put together a flavorful, delicious meal in the same time as take away. We are going to make a curry in a hurry.
First, you are going to want to rinse your long grain rice, when you're in a hurry white rice is faster but if you have the time, make brown rice. Get your rice cooking. Now take the next few minutes to check the fridge and freezer and find what veggies you have cauliflower, zucchini, carrots, broccoli, peas, spinach, you can use any vegetable, greens and bean or legume. Again, use your imagination and use what you have, curries are forgiving and let not waste what we have. Chop your vegetables into bite size pieces and once your prep is done. Get cooking because this comes together quici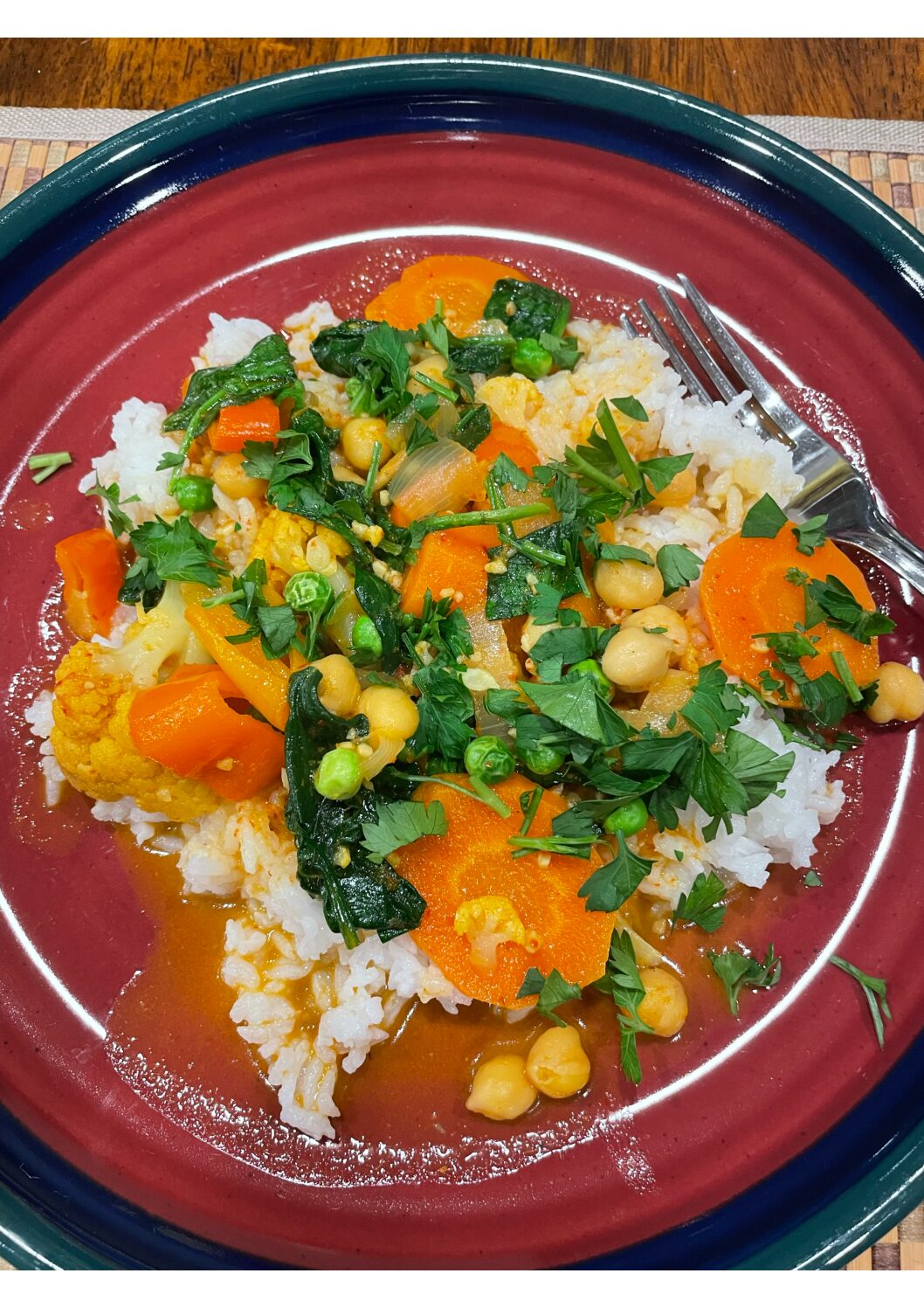 Cauliflower Curry
Ingredients
1/2

white onion, diced

4

cloves garlic, minced

2

tbsp

ginger, minced/grated

1

small jalapeno or serrano pepper

(seeds removed and finely chopped)

3-4

tbsp

red or yellow curry paste (I use Maesri)

1

can

coconut milk(you can use lite or full fat)

you can use half coconut and soy milk

1

tsp

turmeric

1

tbsp

maple syrup or agava

2

Tbsp

coconut amino, tamari or soy sauce

1/2

head cauliflower in bite size pieces

1

cup

carrots, sliced thin

1

cup

frozen peas

2

handful of fresh spinach

1

cup

chickpeas(optional)

1

tbsp

corn starch

2

tbsp

water
Instructions
In a large pot or rimmed skillet heat over medium heat. Once hot, add water, onion, garlic, ginger and jalapeno pepper. Saute for 2-3 minutes, stirring frequently and adding more water as needed.

Add 2 tbsp of curry paste to start and stir. Cook for two minutes. Add coconut milk, turmeric, agave, coconut aminos and remaining curry paste and stir.

Bring to a simmer over medium heat and add the cauliflower and carrots, reduce heat. You wants a low simmer not to boil. Allow to cook for 10-15 minutes just to cook the cauliflower and carrots until tender.

Add the chickpeas, frozen peas and spinach stir in and lower the heat cover and allow the spinach to wilt and the pea to warm through abou 2 minutes.

Make a slurry of cornstarch and water. Stir into the curry and stir for 2-3 minutes to thicken up the sauce. If the sauce thicken too much you can always add a little water.

Serve over rice or quinoa and top with chopped cilantro or parsley
Video
This may have been boring and lackluster for a day of eating but it was realistic. It wasn't instagram worthy for sure, lol. But it was true to what I eat on a daily basis. If you watch my videos you know I can eat the same thing day after day (as seen in my Mary's Mini) and I really am trying to show that you can eat a balance, healthy vegan diet and follow the Starch Solution quite easily and these dishes didn't include any of my meal prep dishes. Had I'd meal prepped. Everything would have been pretty well prepared and I would have just warmed them up but the totally time I spent cooking today was about 10 minutes for my Oatmeal, 10 minutes for lunch and about 30 minutes for supper, and these were all gluten free to boot! I hope you see how easy this can be and we don't have to make it difficult.