Recently I did a Meal Prep with Chickpeas, most people don't realize how tasty and versatile they are. You can top salads, make burgers, falafels, add to soups, make cookie dough or protein balls! Those are the recipes I didn't even have to think about because they are regular recipes in my kitchen. The might chickpea is packed with fiber, protein, folate, iron, magnesium and zinc. Chickpeas are also known has garbanzo beans, so depending are where you are you may hear them called that.
The soluble fiber is great for gut health, it can help lower your cholesterol, give you strong bones and boost your mental health. Wow! who would have thought this little golden nugget could do so much.
This salad is just a quick salad I like to put together and I like to use up what I have in the fridge so I do switch the vegetables. This is more of a Mediterranean salad with these ingredients but I really try hard not to have food waste.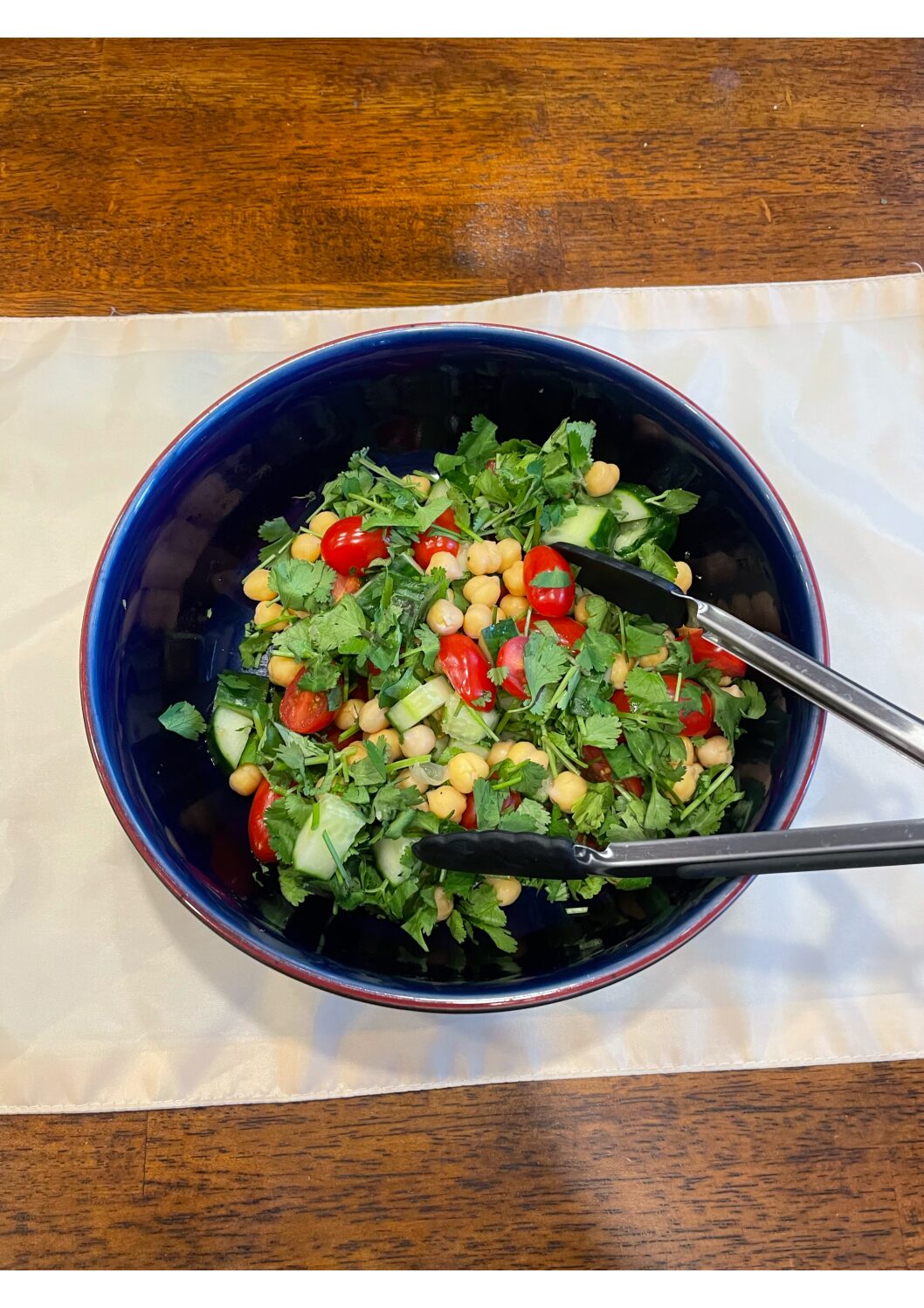 Easy Chickpea Salad
Ingredients
1

cup

chickpeas, cooked

1/2

english cucumber, chopped

12

grape or cherry tomatoes, halved

1/4

red onion, sliced thin (optional)

1/2

cup

cilantro/parsley or both

vegan feta(optional)

salt and pepper

dressing of your choice- delicious with just fresh

lemon juice
Lemon Dressing
1/2

lemon, juiced

1-2

cloves garlic, minced

2-3

tbsp

nutritional yeast

1

tbsp

flax seed, ground

2

tsp

white miso

2-3

tbsp

water

pepper to taste
Instructions
For Dressing -Mix all ingredients together until smooth and thin consistency and set aside.

Chop tomatoes in half and cucumbers in bite 1/2 inch pieces, toss everything into a bowl and toss with dressing. This will get better the longer it sits. Also great topped with vegan tofu feta ( https://youtu.be/u1FFzcZh8_c)
You can also add my vegan tofu feta which is easy to make and delicious to eat make it with or without the herbs its up to you https://youtu.be/u1FFzcZh8_c