The title say it all, all my favorite foods in one dish. Only this is a healthy version. We are using frozen fat free hash browns, our vegan cheese sauce and frozen broccoli. You can also use frozen rice cauliflower to up the non starchy component if your following the Starch Solution and your doing 50/50 plates this will end of being 50/50 all in one dish. How great is that.
Making this for your meal prep in a big 9 x 13 pan is great, you can have it for breakfast or as a side dish throughout the day. It only takes a few minutes to put together, bake for 25 minutes and then keep it in the fridge and take what you need and warm it up. What could be easier.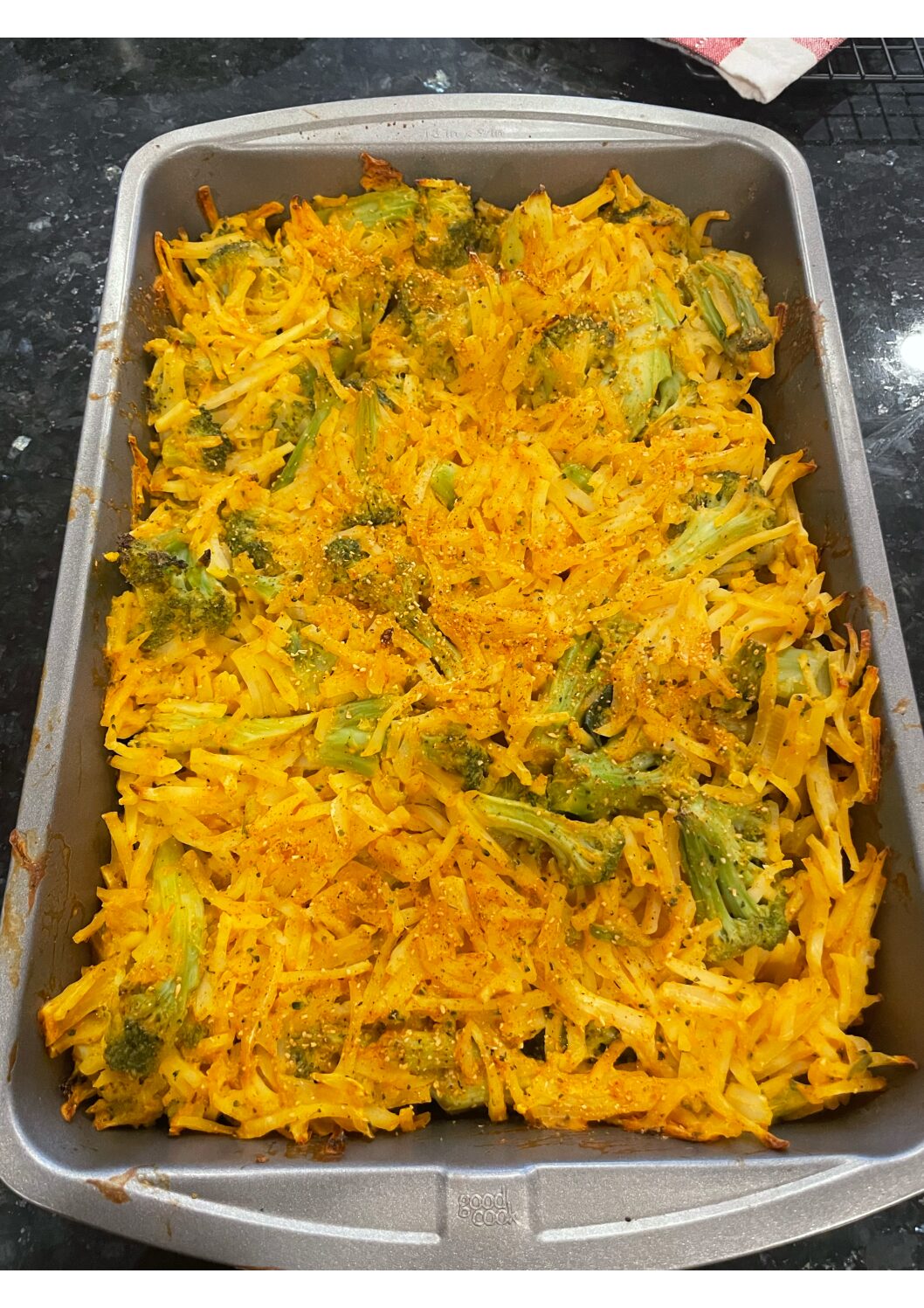 Cheesy Potato Broccoli Casserole
Ingredients
1

large bag frozen shredded potatoes,

thawed

2

bags of broccoli

thawed

1

recipe Vegan Cheese Sauce

1

bag rice caulflower

optional

1

tsp

cajun seasoning

1

tsp

garlic powder

1

tsp

onion powder
Vegan Cheese Sauce
2

large potatoes, chopped

2

large carrots, peeled and chopped

2

tsp

white miso

3

tbsp

nutritional yeast

2

tsp

garlic powder

1

tsp

onion powder

1

tsp

salt

1

tsp

smoke paprika

1/4

tsp

cayenne

1

tsp

turmeric
Instructions
Preheat oven to 350 degrees F. Prepare 9 x 13 pan. If non stick, nothing further to do. If not non stick, line with parchment paper or spray with non stick spray.

In a large bowl, mix all the ingredients and add enough cheese sauce to ensure the casserole won't dry out. Pour into your prepare pan.

Bake for 25-30 minutes until bubble and brown.
Vegan Cheese Sauce
In a pot add potatoes and carrots and bring to boil, reduce heat and simmer for 20 minutes until the are tender.

Transfer potatoes and carrots to high speed blender and add the remaining ingredients and about 1/4 cup of reserve liquid from cooking the potatoes to start. Start blender and use tamper slowly add additionally water as needed until you get the consistency desired for your cheese sauce.

Your desired consistency will vary depending on what you are using it for. For this recipe, you will want it somewhat thinner. For Nacho dip you will want it thicker.
Video