Who doesn't like donuts? But let's face it they aren't healthy and we really should only have them occasionally as a treat. Until now, here's a recipe that has natural ingredients and are healthy for you and these are baked not deep fried!! But the are light and fluffy on the inside and so easy to throw together. You will need a donut mold or pan. I'm using a silicon one but the also have stainless steel. I fine the silicone ones work best because I don't use any oil or spray and they will come out ok.
Nut butter or Sunflower butter- you can use almond or peanut butter your preference depending on the flavor you are going for. This is where are donuts are going to get their fat from instead of butter or oil.
Bananas- ripe bananas work best, the riper the better and they are going to add sweetness and replace our eggs.
maple syrup for additional sweetness
plant based milk- any will do, almond, soy, oat.
Cinnamon always optional but I love the flavor in the batter and in the topping
Topping your donuts is equally important- you can dust them in sugar, cinnamon sugar or make a vanilla or chocolate glaze if you want to be fancy.
These donuts are best on the day they are made or the next day. You can also reheat in the air fryer for a few minutes to crisp them up again.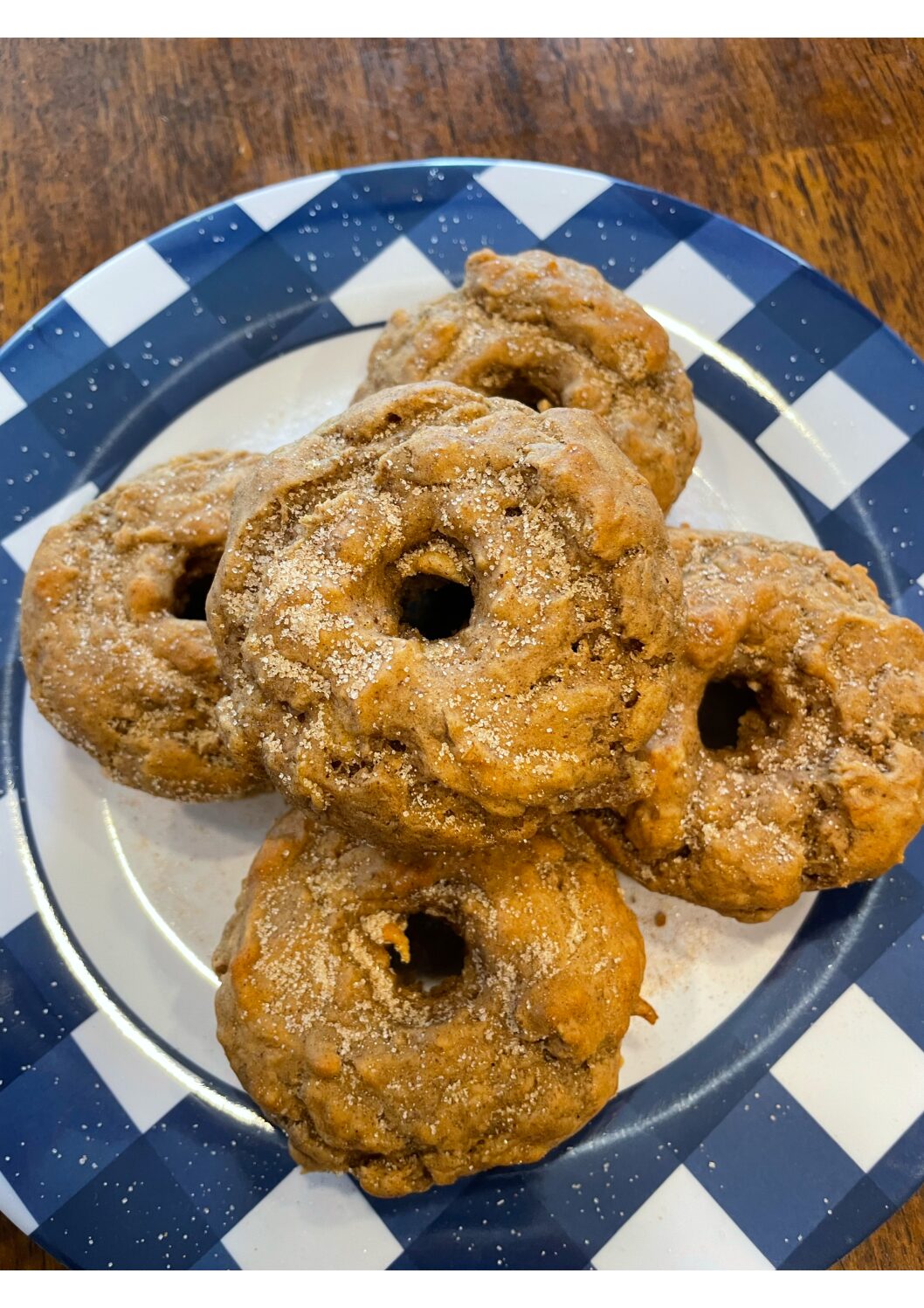 Oil Free Vegan Banana Donuts
Ingredients
2

ripe

bananas, mashed

1

tsp

vanilla

1/4

cup

Nut butter(I like Almond butter or Peanut Butter)

Sunflower seed butter works well

1/2

cup

plant based milk

3

tbsp

maple syrup

1

cup

flour or gluten free

1/2

tsp

baking soda

1 1/2

tsp

baking powder

1

tsp

cinnamon

pinch

salt
Cinnamon Sugar
1/2

cup

vegan sugar

1

tsp

cinnamon
Instructions
Preheat heat oven to 350 degrees F. Prepare your donut pan, either spray or oil if using. I use my silicone donut pan and I don't use a spray but they do come out easier.

In a large bowl, mash banana until smooth with only a few lumps and add the remaining wet ingredients, vanilla, nut butter, almond milk and maple syrup.

Stir well to combine.

Sift the dry ingredients over the wet ingredients and then mix to combine until the flour in well incorporated.

Transfer batter to a pastry bag or spoon the batter evenly into the donut pan.

Bake in the oven for 15-20 minutes until they are golden brown and a toothpick comes out dry when put in the thickest part.

Remove and put on cooling rack for about 5 minutes and then remove from mold. In the meantime, make the topping by mixing the sugar and cinnamon in a bowl.

Dip the donuts into the cinnamon sugar top and bottom. Serve and enjoy!