It's Meal Prep Monday and we are back in the kitchen and getting are staples together for this week completed and our meals will be ready to go when we need them. The theme this week is potatoes and pasta. I'll show you several ways to make your potatoes and how to enjoy and a tasty pasta dish that is zero fat or oil but you will never know, and it packed with vitamins and minerals.
Let's start with our potatoes because you know this girl is your "Potato Queen"! First, we are going to bake our sweet and russets. I think that sweet potatoes or yams get extra sweet when they are baked in the oven in their skin. They caramelize and are soft and gooey. From this point we can do so much with them, mash them, eat them out of the skin, make brownies, drizzle peanut butter and bananas for breakfast. I'm also baking some russets to have as baked potatoes and topping with my favorite vegan cheese sauce, pico de gallo, broccoli or your favorite vegetable or double stuffed baked potatoes with some nutritional yeast. Yummy!
I'm also going to make some fat free mash potoes with Yukon gold in the instant pot but you could just cook these in a regular pot, of course. Just peel, cubes and add fresh water and pinch of salt. Bring to a boil and cook until fork tender. I did mine in the instant pot so I didn't have to pay attention to another pot on the stove. Remove the extra liquid and use a masher or ricer and mash your potatoes and add a little plant based milk to make them creamy. Now I shouldn't have to tell you what to do with mash potatoes, eat them, of course but you can a few things to them, some seasoning and put them in your waffle iron- my favorite way to use left overs! They come out crispy on the outside and fluffy and soft on the inside.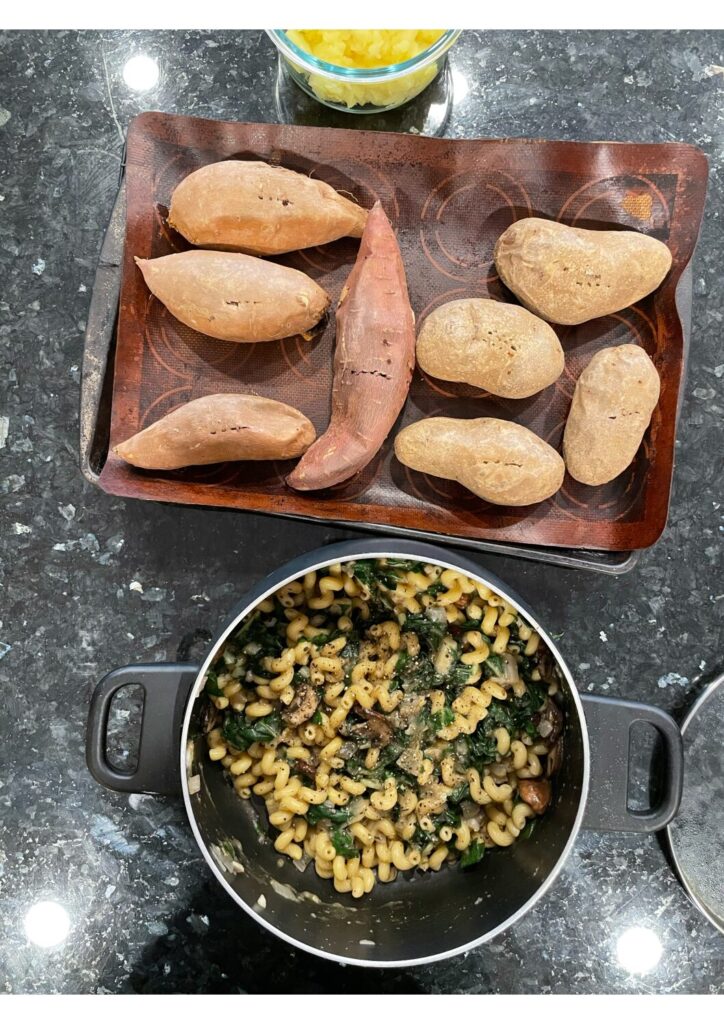 Finally we are going to make a wonderful and heart pasta, using what we have and feel free to mix up the ingredients because that is how I cook and most times I don't have a recipe. So I was going through my pantry and I always have pasta, rice, quinoa. I haven't have pasta for awhile. Check, let's see what we have to put in it and let's make it healthy. I always have vegetable stock either that I've made or bouillon in my fridge but you could use water and just add more spices. Again, my pantry is usually pretty well stocked with the basics so garlic and onions are a no brainer. I wanted to make it thick and hearty so I decided we needed to make it like a gravy or saucy. So we'll use flour or a slurry and now just pick some spices and lucky me I had a few mushrooms but you could use other vegetables and spinach or kale, fresh or frozen would be great in this as well. Dah Ta! Recipe is born! This turned out so well and it was even good cold. It was Oil Free, Vegan, Starch Solution friendly. I didn't use Gluten free pasta here but if your Gluten free you know which pastas work well.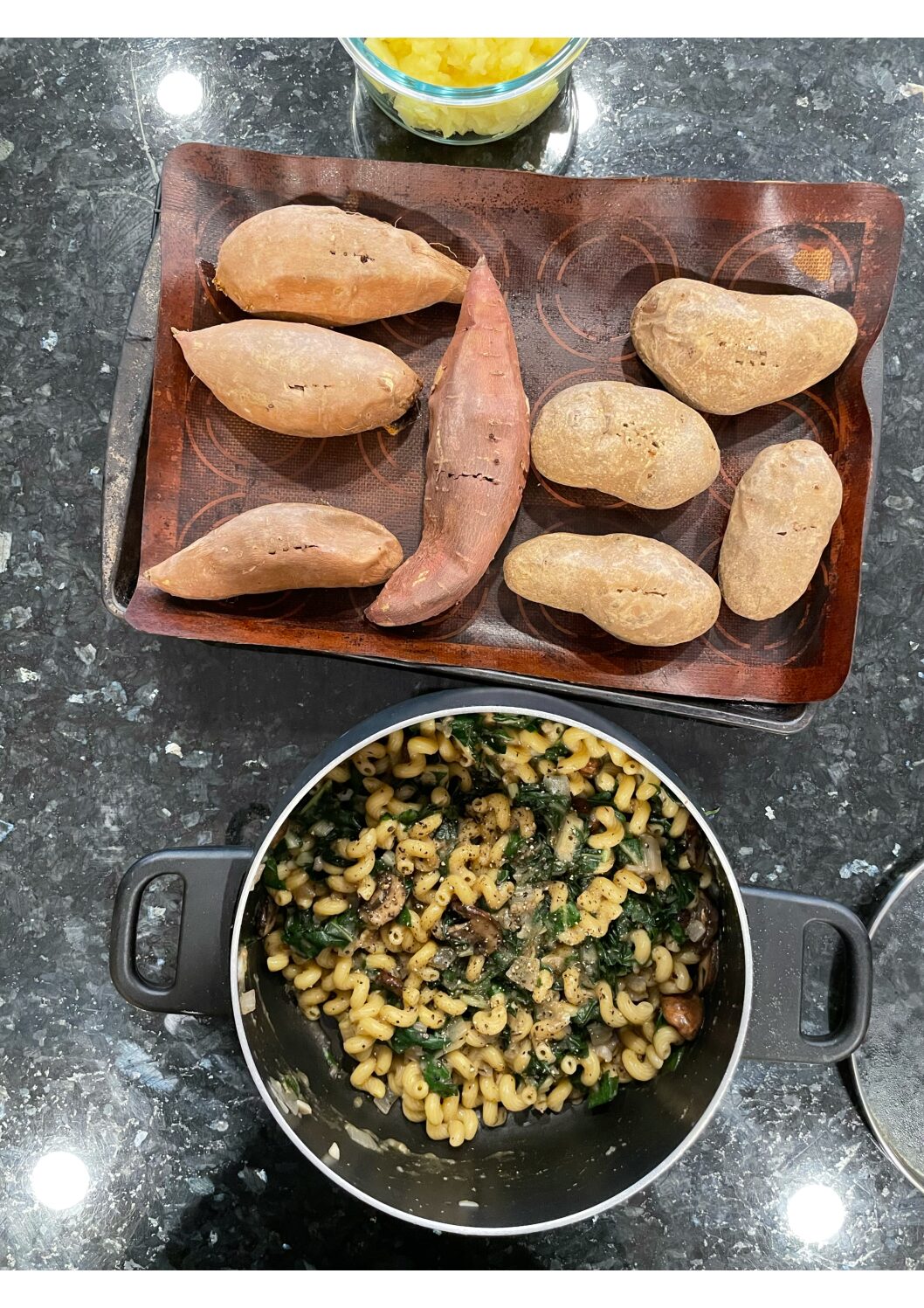 Creamy Mushroom and Swiss Chard Pasta
Creamy Mushroom and Swiss Chard Pasta
Equipment
1 Large pot

1 Good knife

1 Cutting board
Ingredients
8

oz

Cavatappi pasta(or pasta of your choice)

or Gluten Free Pasta

3

garlic cloves, minced

1

medium white onion, diced

8

cremini or button mushrooms, cleaned and sliced

2-3

cups

Swiss chard or spinach, chopped

2

cups

vegetable broth

4

tbsp

flour or gluten free blend

1

tsp

poultry season

2

tsp

thyme

1/4

tsp

red pepper flakes(adjust to your preference)

1

tbsp

nutritional yeast

Salt and pepper to taste
Instructions
Bring a large pot of well salted water to boil and cook your pasta according to directions on the package. Stop short by about 2 minutes as the pasta will continue to cook in the the sauce.

In a large stock pot, water saute the onions and garlic. Add the mushrooms and allow to brown for about 3-4 minutes. Add water as needed to ensure they don't burn.

Sprinkle the flour over the mixture and stir and cook the flour for a couple of minutes. Continue to stir. Add the vegetable broth and stir well to incorporate everything(you can use a whisk to get out any lumps) Continue to stir as the sauce thickens. Add in the spices and nutritional yeast at this time. If you have any lumps again you can use a whisk to get rid of any lumps.

Drain your pasta and do not rinse, add directly to the sauce and then add the chopped swiss chard and allow the swiss chard to cook down 3-4 minutes. Adjust your seasoning. This would be also great with vegan parmesan or nutritional yeast on top.

** Instead of adding flour you can substitute a corn starch slurry by mixing 3 tbsp of corn starch and 6-8 tbsp of water. After adding the vegetable broth and allowing everything to cook for a few minutes but before you add the pasta. Bring the mixture to a low simmer and add the slurry and allow the mixture to thicken and then add the pasta and swiss chard

You can substitute Gluten Free Pasta to make this Gluten Free
Video