Wow, now that's a mouthful. Onion rings are one of my favorite things but almost impossible to find good vegan ones because they always use eggs to bind the crispy coating. Now that I follow the Starch Solution and I don't use oil in my diet finding Oil Free seems to make this even more challenging. I had to find a way to make these healthy, crispy and still delicious. I think I have. You can make these with or without an air fryer. The air fryer is a little faster but the oven you can make more, so it's really up to you.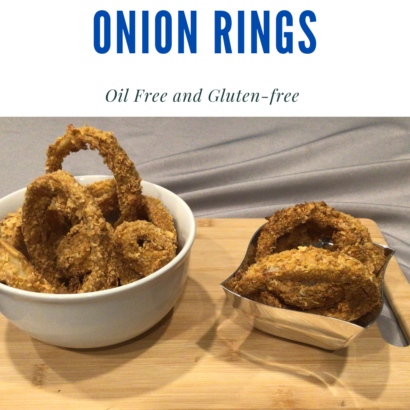 Vegan Oil Free Onion Rings
Ingredients
1-2

cups

ground corn flakes, breadcrumbs, panko or GF panko

2-3

tbsp

nutritional yeast

1-2

tsp

smoked paprika

2

tsp

garlic powder

1/2

tsp

salt

1

cup

chickpea flour

4

tbsp

cornstarch or arrowroot

but not tapioca

1

tsp

onion powder

1

tsp

smoked paprika

2/3

cup

water

1

large vidalia onion
Instructions
Preheat air fryer to 400 degrees F or oven to 425 degrees F.

In a shallow container combine dry ingredients, corn flakes, nutritional yeast, smoked paprika, garlic powder and salt. Combine and set aside

In a bowl combine the wet ingredients, chickpea flour, cornstarch, onion powder, smoked paprika and water and whisk. You can add more water if needed. The batter should adhere to the onion and be like a pancake batter.

Using one hand for wet and one hand for dry.

Slice your onion about 1/2 inch wide. Divide the rings 2 rings to create one onion ring. Repeat with the rest of the onion.

Dip the rings one at a time into the batter and then into the dry, coat well and lay on a separate sheet pan.

Place the onion rings into the air fryer and cook for 7-8 minute until brown and crispy. If using the oven, lay on the baking sheet and cook for 10 minutes on one side then turn over and continue to cook for additional 5 minutes.
Video