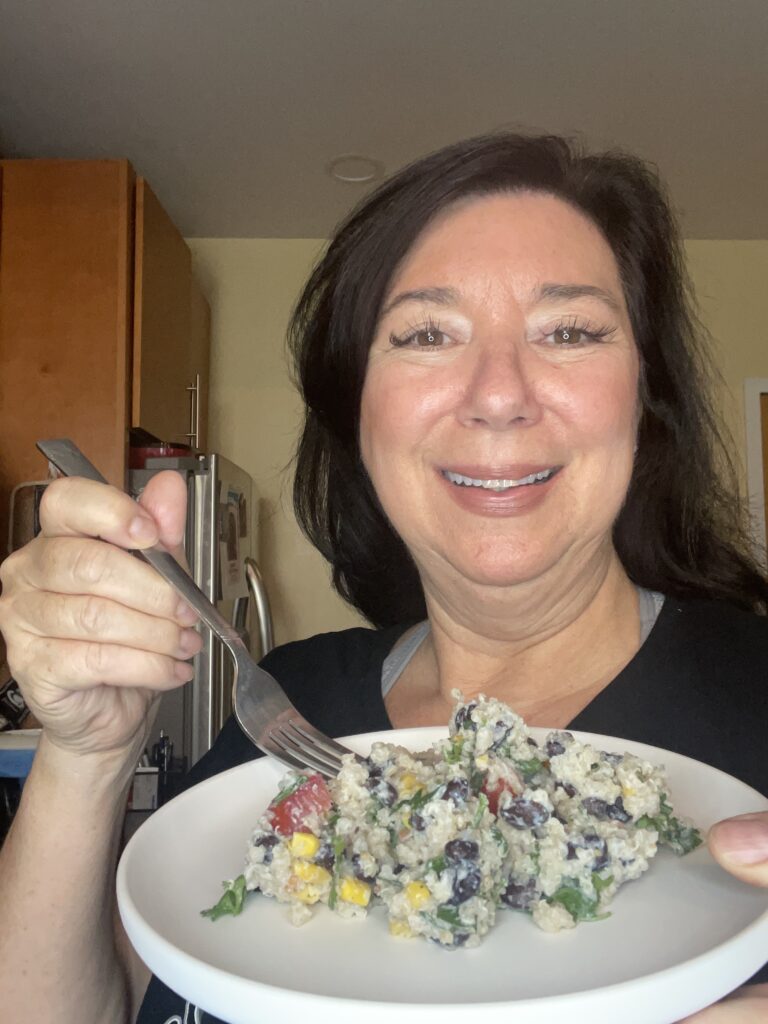 This happens to be on of our favorite salad go to at the moment. Not only is it gluten free and oil free, it is chock full or protein, vitamins and minerals with a kick! Easy to put together in a new minutes if you have leftover quinoa, but quinoa is quick to whip up a batch.
This salad travels well, so take it along to the beach, picnic, or the next BBQ or pack it in your lunch or on your next trip.
Why you need to make this
Easy and delicious to make
Great for meal prep as it holds up well over a few days, in fact it gets better
Full of protein from the quinoa and beans
Gluten free, Vegan, Oil free and Starch Solution friendly
It's spicy, so it not an old boring salad
The key players in this dish
Quinoa- is a complete protein and provides 8 grams of protein and 5 grams of fiber
Black Beans are tender and delicious and provide 8 grams of protein and 7 grams of fiber
Silken tofu is easy to keep on hand in tetra boxes and provides 6 grams of protein, calcium and iron and no cholesterol
Cilantro given this salad a true Mexican feel but if you don't like cilantro, you can sub parsley
Salsa verde it the true hero in this recipe and keeps the dressing to two ingredients because it pops a punch and it premade.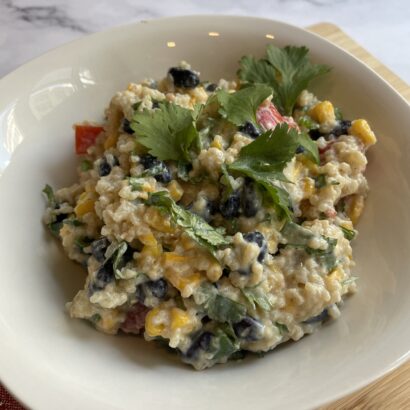 Mexican Quinoa Salad
Ingredients
1

cups

quinoa cooked

1

cup

corn, canned or frozen, thawed

1

cup

black beans

1

plum tomato, chopped

1/2-3/4

cup

cilantro, chopped

or sub parsley

1/2

cup

red onion, diced

1/8

cup

pickled jalapenos, chopped (optional)

1/2-1

cup

salsa verde

1

silken tofu

salt and pepper to taste
Instructions
In a large pot cook quinoa according to package directions. Allow to cool

Once the quinoa is cooled, add all ingredients except for the silken tofu and salsa verde into a large bowl and toss to combine.

In a blender add the silken tofu and blend. Add 1/2 cup salsa verde and blend together. I prefer mild salsa verde but if you like heat, use the hot. Add any additional salsa verde until dressing is smooth and pourable consistency.

*I used silken tofu in the tetra box. I find it has a better flavor for this recipe.

Add your tofu dressing, half to start and combine. Use as much or as little as you prefer. Leftover dressing is great for salad dressing, topped on tacos, or as a dip.