Falafels are one of my favorite foods, raise your hand if you love falafels too! Just because they are simple they still deserve all the love. Yes, they are easy to make but they are packed full of flavor, fiber, protein and nutrients. If you don't know of these traditional Middle Eastern dish which are usually fried balls of ground chickpeas seasoned with herbs like parsley and cilantro and spices. They are popular street food throughout the Middle East and Europe where you can find them stuffed in pitas overflowing with fresh vegetables, hummus, tzatziki sauce and pickles.
Baked Falafel Recipe Ingredients
-Uncooked dry chickpeas- I have tried this recipe several ways, but it using dried chickpeas are the best. This recipes doesn't work well with canned chickpeas, they will be mushy. Normally you should just soak your chickpeas overnight and then grind them. That is how the are typically done. In my recipe I have cooked mine but just minimally.
-Cumin, coriander and cayenne- for aromatic flavor and always toast your spices to allow your spices to bloom
– Parsley and Cilantro- Use a good amount to bring bright fresh flavors to your falafels. Don't forget to incorporate the stems as well which have great taste.
-Baking powder- Just a pinch makes your falafels puffy in the oven
-Chickpea flour- Will keep these gluten free and help bind our falafels together.
The first thing you will need to do is soak your chickpeas for at least 4 hours but ideally 8 hours. At this point you can use them but have also used cooked chickpeas in this recipe. But canned do not work well.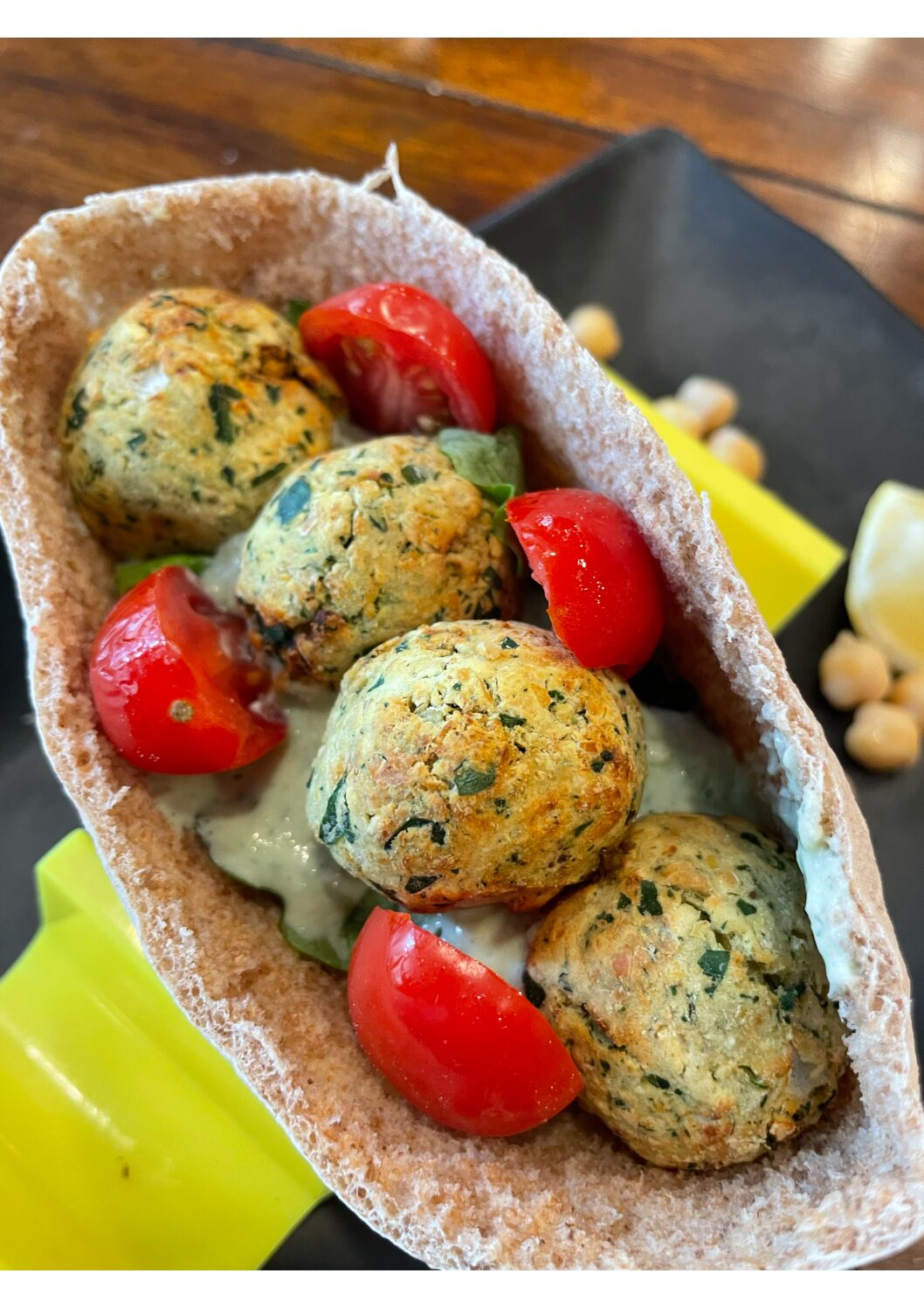 Best Falafels
Ingredients
1

tsp

ground cumin

1

tsp

coriander

1

tsp

cardamom

1.5

cups

chickpeas

1/2

cup

white onion, chopped

1/2

cup

chopped parsley

1/2

cup

chopped cilantro

2

tsp

lemon juice

1/2

tbsp

minced garlic

1/2

tsp

salt

1/4

tsp

cayenne pepper (optional)

1/2

cup

chickpea flour

1/2

tbsp

baking powder
Instructions
Place cumin, coriander and cardamom in a dry skillet over medium heat. Cook and stir for about 30 second to one minute until fragrant.

Place spices, chickpeas and remaining ingredients except for the chickpea flour and baking powder into the food processor. Processes several times and scrape down the sides and until the mixture sticks together between your fingers.

Add the chickpea flour and baking powder and mix well. Cover and refrigerate for one hour to let the flavors develop.

After one hour use a scoop or tablespoon to roll balls to your preferred size. At this point you can freeze them on a sheet pan or you can cook them.

If cooking in Air Fryer. preheat your air fryer to 2 minutes at 350 degrees F. Cook for 5-10 minutes shaking half way through. Depending on your air fryer.

If you are using your oven. Preheat your oven to 350 degrees F. Cook for 10 minutes and then flip and cook for another 5 minutes.

Serve on pita bread with hummus, tzatziki sauce, onions, diced tomatoes or serve on top of salad.