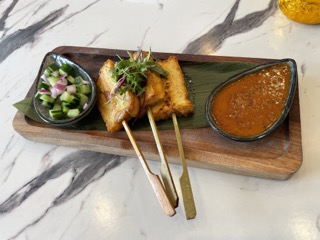 When you think of New Orleans, you think of Mardi Gras, the French Quarter, drinking and food but would you ever think of New Orleans and vegan food in the same sentence? Nope, not in a million years. New Orleans is southern food, smother meats, seafood and it's everywhere. I avoided New Orleans for a while when I first went vegan because I thought it would be too difficult to enjoy one of my favorite cities. I was so wrong.
As I started to research, I was not alone. With the eclectic population of this city and it's music, so was the food. Yes, I wasn't going to the same old places I used to go but I found new places, better places and new areas of New Orleans to explore and discover. New friends to meet, new recommendations. Always do your homework. Research where your staying, what's close by and yes, make sure you know when they are open. Because in New Orleans, some places have there own idea of peak hours and the days they are open.
When you think New Orleans, you don't think Thai, but you should! My first stop was Thaihey Nola at 308 Decatur in the heart of the French Quarter. This light and airy restaurant plays rock/pop standards set to a jazzy vibe. The tables are set with gold cups and linens. Ken our server was friendly and inviting and took such great care of us. They have a separate vegan menu so you can feel confident in ordering. They have a regular menu, so if your traveling with friends who aren't vegan, this is a great place for everyone to agree on.
I started with Tofu Satay which was presented beautifully. The tofu was skewered and seared and crispy on the outside but remained tendered on the inside. The peanut satay sauce was so tasty I wish I had a spoon and a big bowl. For my main dish I had the Kraprow Vegan which was spicy basil stir fry with local farm picked mushrooms, tofu served over rice. They will ask you for your level of spiciness and they do follow a true thai increments. I only got mild and that was warm enough for me. Just hot enough to keep me coming back for more and to have a little sweat but not too uncomfortable.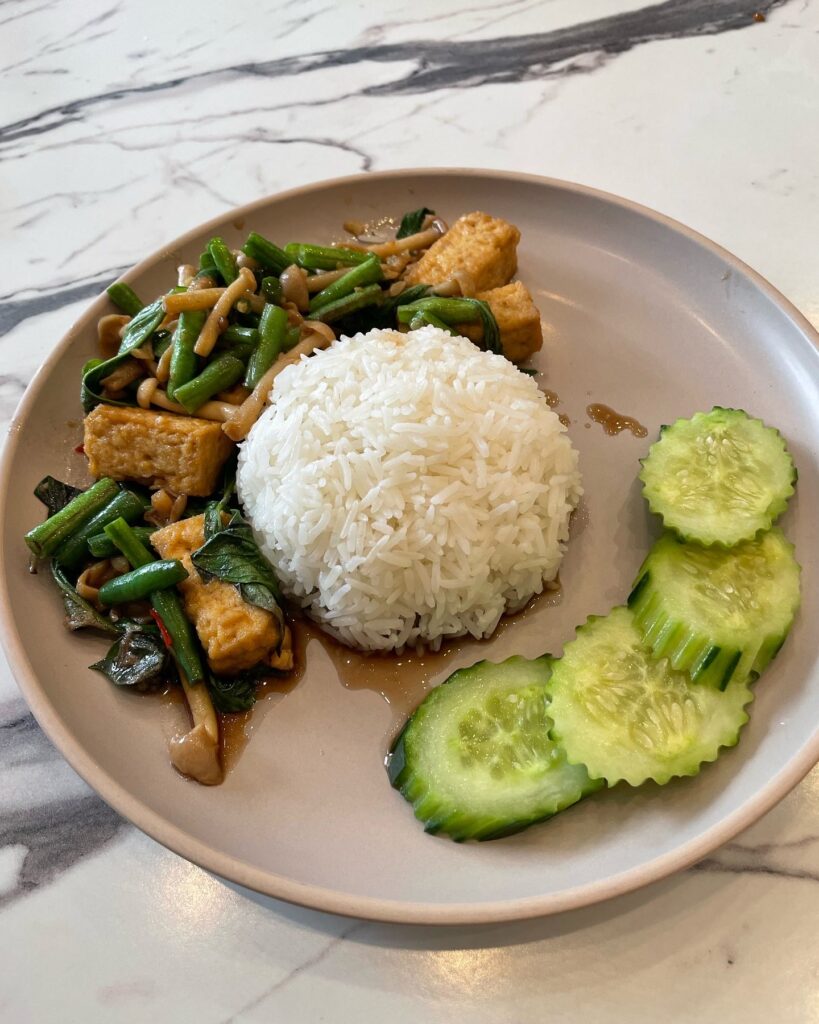 As we sat and relaxed with our food, people came and went some for drinks and they did have some delicious looking drinks, there's a small bar area or tables outdoors where you can seat. Other dishes on their vegan menu are Tomkah Vegan soup, Mushroom Salad, Spicy Eggplant, Khao Soi Tofu, and a Pumpkin Curry. So whether you come to relax and enjoy the atmosphere or take your deliciousness to go, make sure one of your stops is here at Thaihey Nola.
My next stop in Nola for vegan food was another new restaurant I-Tal Garden located at 810 N Clairborne Ave. is "plant-based food company provides healthy alternatives to traditional New Orleans style soul cuisine" according to your website. I read this and I was in. I want all the things that New Orleans is known for but without the animal products. I-Tal comes from the root word for Vital. There is street parking and you do need to drive to this restaurant. The staff is friendly, they have come great music playing. We weren't sure what to do when you get there. Grab a menu, go to the counter and order and pay. They will bring you your food. Well there was so much on the menu and I took some friends along. We had the avocado toast, brussels sprouts, creole potato salad, rosemary roasted potatoes, crabless crab cakes, crispy BBQ cauliflower wings, avocado fries, mac and cheese and collard greens. whew!! There was 4 of us and we still had left overs. Some things were sold out that we wanted to try, which we understood.
My favorite by far was the crispy cauliflower wings! The best I have ever had, I could have eaten those crispy delicious bites and that BBQ sauce was so addictive. The have other sauces like BBQ sriracha, maple mustard, buffalo and maple sriracha. They can also make them gluten free! The avocado toast was ok but the bread wasn't toasted, but the topping was flavorful and the salad that came with it was tasty and it was a good portion side for the price. The collard greens were mixed with cabbage and the flavors they imparted in the greens were amazing, you would have thought there was some kinda of meat in there. Our next favorite would have been the avocado fries with their I-tal dipping sauce which is spicy! I had the left over the next day and they were even good cold, I mean I could have put them in the air fryer to crisp them up but they were good cold. I enjoyed the mac and cheese and potato salad and brussel sprouts but there was a debate from my non vegan friends about the mac and cheese. They also have Gumbo on the menu and I would definitely go back as there were several other things on the menu I wanted to try but had no room for.
We took a slice of Lemon Lavender cake and a Oatmeal Chocolate chip cookie to go. Both were equally
delicious.
Aroma was our last stop after a long day at the St. Paddy's day parade. This Indian restaurant located at 401 S. Clairborne Ave was a wonderful place to land. Indian cuisine is known for its vegan dishes and Aroma makes it so easy, as the denote all the dishes that are vegan with a star. The naan is not vegan but the Roti is. The owners are a young couple. Our friends frequent this place often and we were just going to do take out but when we went in the construction had finished and their gorgeous airy dining room was open, so we decided to stay. The staff was friendly and told us they were busy and it would be a few minutes. We weren't in a hurry and enjoyed the decor of the room and talking to them. I had the Chana Masala which came with rice. They brought out beautifully decorated plates and cutlery for us to use, long with bowls of light fluffy rice. I always wonder how they get the rice this way. Mine never turns out like this and they are literally making 20 times what I make. The food was hot and the spice level was perfect, warm enough to be addictive but not painful. We were all chatty until the food arrive and then silence as we dug into our dishes. Everyone enjoyed their dishes. The roti was great for dipping in the chana masala.
Aroma is off the beaten path, meaning it's not in the French Quarter of New Orleans but has great food with amazing flavors.
Just remember when your travelling to a new place do your homework, know what's available and where it's located and their hours. That's your first step. Always bring your own food. Pack some packages of oatmeal and packaged food just in case. No one wants to be hungry or hangry. Some place can be accommodating but others are not and I have experienced this first hand! Other great places in New Orleans, Bread on Oak, Maxwell, Bearcat Cafe, Sweet Soul Food, The Daily Beet and the Sneaky Pickle to name a few. Go explore, you can even find vegan beignets at Seed.