Let me take you to a magical place in Portugal, Omassim GuestHouse where I spent a week immersed in yoga, meditation, healthy eating and self care. Sometimes we all need to take time, step back and look within and focus on ourselves and hit the reset button. Portugal and Omassim is the place to do just that. Tucked away on the west coast of Portugal is Ericeira, about 30 minutes from Lisbon Airport. It's quite easy to get around Portugal as they have a great transit system but if you are coming to Omassim they can arrange for a private transfer for you and I highly recommend taking it. Joao met us at the airport on time and exactly where we had already prearranged and after an all night flight it was great just to be picked up and shuttled through the countryside and he was a wealth of knowledge giving us a little history lesson along the way.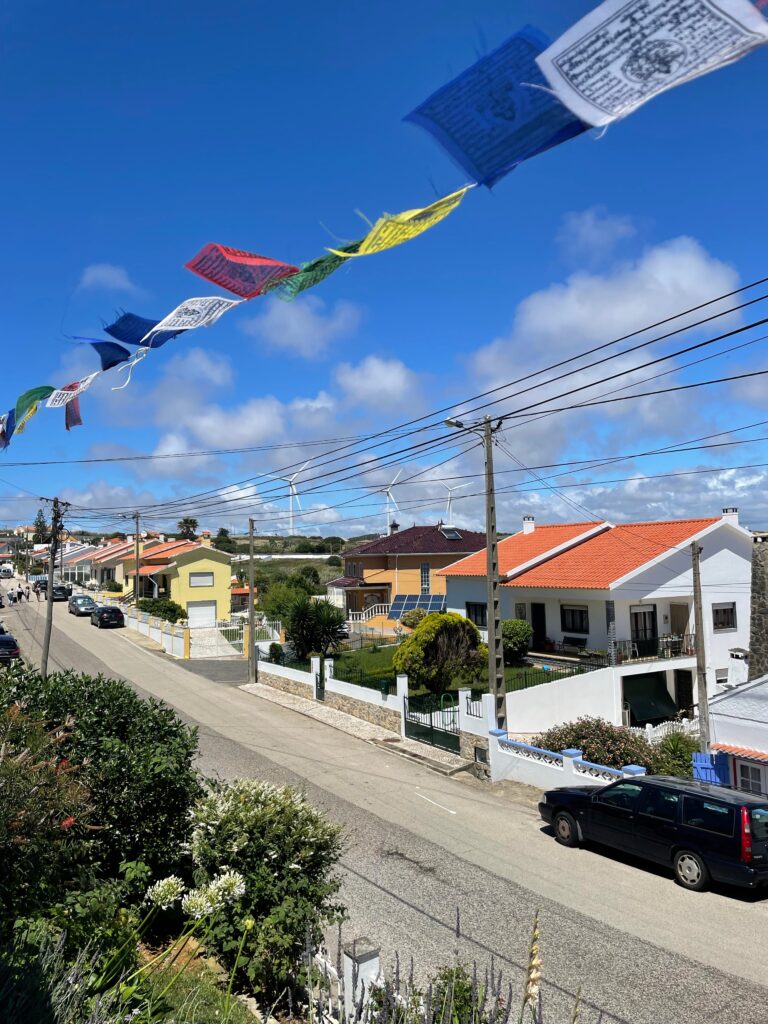 Once we arrived, we were greeted by Lia and Fiona. We were staying in the Pink House. Omassim has two houses the Pink house which houses guest rooms, the kitchen and dining room which includes outdoor seating and a gym. A short walk down the street is the Blue House which has additional rooms, livingroom, pool and massage area in the back plus the yoga and meditation studio. Everyone was so welcoming and we settled into our room. I was fortunate enough to experience this with my daughter. I was doing the yoga and relax and she was doing the yoga and surf.
We had planned this trip two years ago as a celebration for my daughter, but due to Covid it was postponed until now. So here we are celebrating my daughter's accomplishments and it just happened to fall on my birthday. The sun was shining and kissing the earth with its warmth. There was a light breeze that carried the fragrant smells of all the beautiful flowers as we got to know our new surrounds. Portugal and the costal area is beautiful and mountainous. We spent the afternoon getting to know the new guests as they arrived and preparing for our first yoga class and supper.
Our first yoga class on Saturday night was a gently yoga to ease us into our journey for the upcoming week. As we would discover, our morning yoga would be lead by Lia and would be an invigorating Vinyasa flow, where our evening meditation and evening yoga class would be lead by Judith and help us to unwind, center ourselves and relax from our day.
After our first yoga class we all headed back to the Pink House for supper. It was still warm in the sun but the sun was setting. Chocolate our friendly Chocolate Lab was there to greet us, as we would learn he was such a gentle soul, so easy going. Now for one of the best experiences of this trip, which was the food at Omassim. Eduardo was absolutely amazing, every meal was incredible, healthy, plant based, vegan, vegetarian. He made mostly vegan dishes with some vegetarian dishes, so everyone was happy. On this night he had made a creamy vegan cauliflower soup, this delicious rice which I discover had lemon rind, cinnamon and peanuts, that I just couldn't stop eating. They served a lentil dish with sun dried tomatoes, hummus, babaganoush, toasted bread with watermelon and for the vegetarians they had watermelon with feta and roasted sweet potatoes. It was served buffet style and you were welcome to take as much as you wanted and you could have seconds and thirds.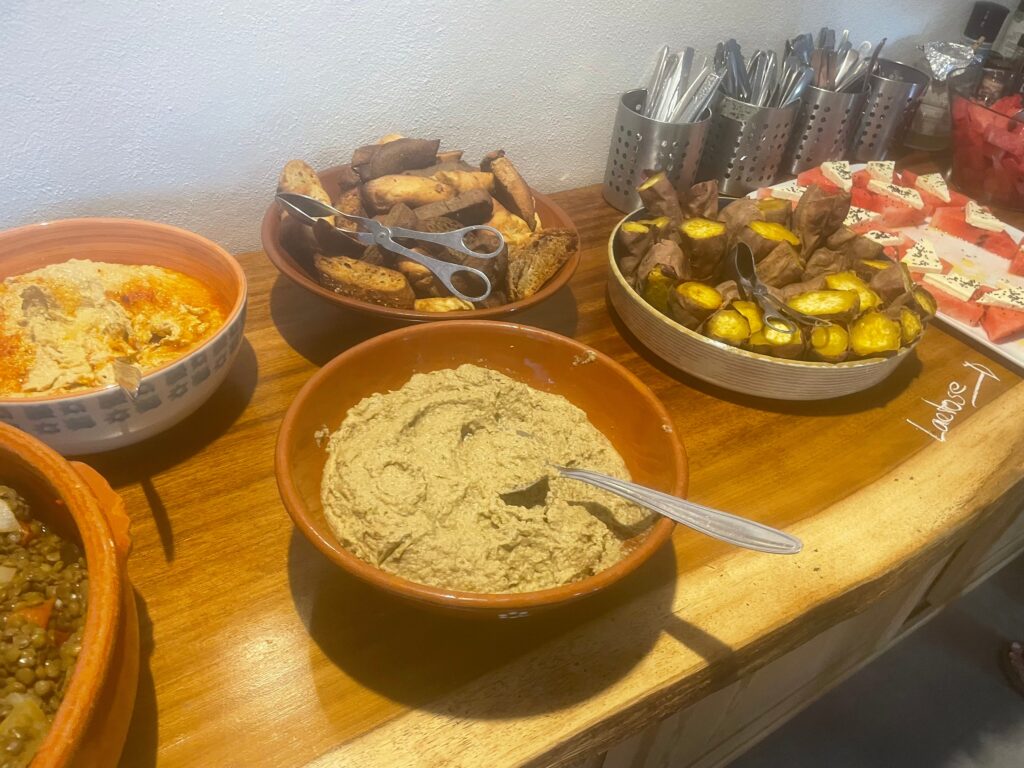 One of the best part of the retreat is meeting people from all over the world and connecting with them, young and old. After supper, Lia, gave us a breakdown of how things go, basically our day starts with yoga at 8:00 am with breakfast to follow, if your package was yoga and surf, your pick up time will be on the board as it changes day to day depending on the tides and the surfing school. Your day is mostly your own, you can hike, relax, have a massage, hang by the pool, go for a bike ride, work out in their gym. There is meditation at 5:30, followed by evening yoga at 6:15 and supper at 7:30 pm.
It seems so simple but the days would fly by. After yoga, we would gather for breakfast talk about how great the food was and learn from each other, make friends. I headed to the beach several times to watch my daughter surf. The walk there long, hot and pretty much straight down hill. The countryside is quite mountainous and hilly compared to Chicago. But oh goodness the walk back was torturous the first time literally straight up about 80 degrees. A feeling my legs and knees haven't felt in years and with the afternoon sun pounding down at 100 degrees no small feet making it back. The beach area here had a lovely restaurant and bar. So we stopped and had a birthday drink which help make the hill a little less horrible.
I won't bore you with every meal I at Omassim because you'd be drooling and it would be a long list of all the incredible dishes the Eduardo made to nourished our bodies. I can tell you that they did make me a birthday cake which was raw, vegan, gluten free and dark chocolate and I believe avocado mousse. Amazing!!!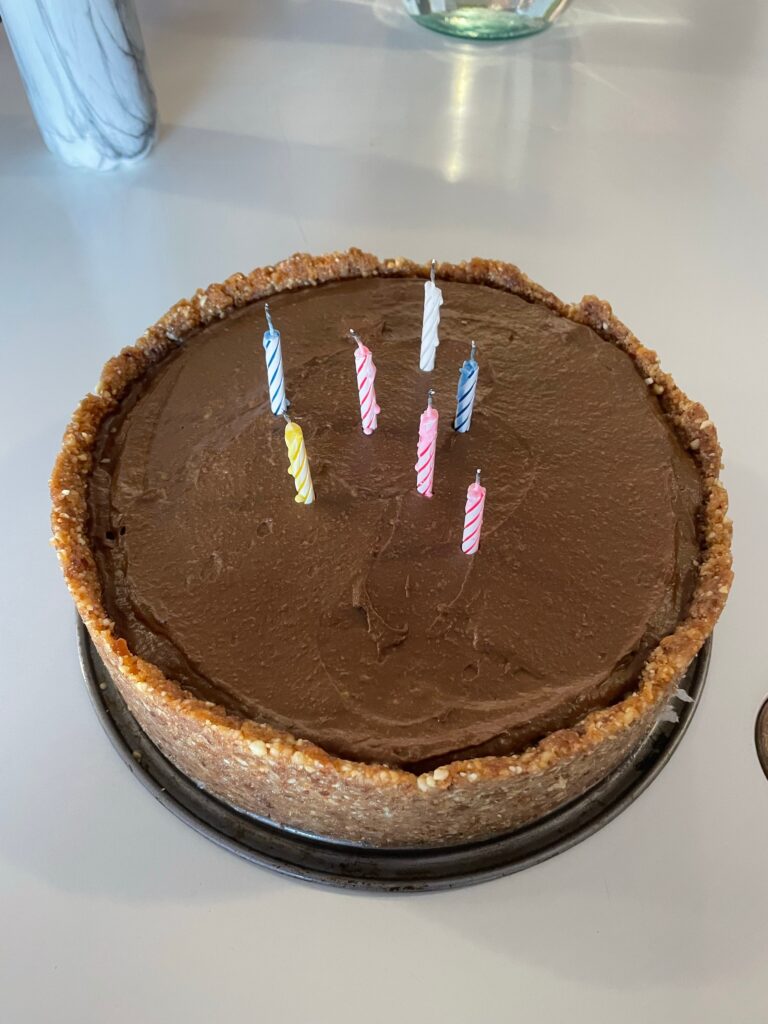 Breakfast was mostly the same, oatmeal. fresh breads from a local bakery, meusel, tomatoes, cucumbers, fresh fruit, yogurt, regular and plant based, jams, coffee and cheese. There was always fresh fruit for snacking.
One morning we went into Erierceria to walk around and explore. We took a Uber which cost about 8 euros and about 10 minutes to get there. You could walk it's about 5 km along the coast. We stopped at a cafe and an iced coffee which really isn't a thing there but they can make it with oat milk or soy. My daughter had some pastries but in this small town there were no vegan options. We spent our time walking and enjoying the decor and old world charm and browsing the stores and talking to the shop owners who were very friendly and did their best speaking english with us. We bought a few souvenirs that were handcrafted. Sometimes finding Ubers or taxis to get back can be difficult depending on the time of day, which was the case on this day. But we were able to get a shop owner to call for us as there were no Ubers available and no Taxis at the stand. We had to wait about 15 minutes but a taxi finally came and had us back in no time. He was pleasant and apologized that most of them must be on lunch.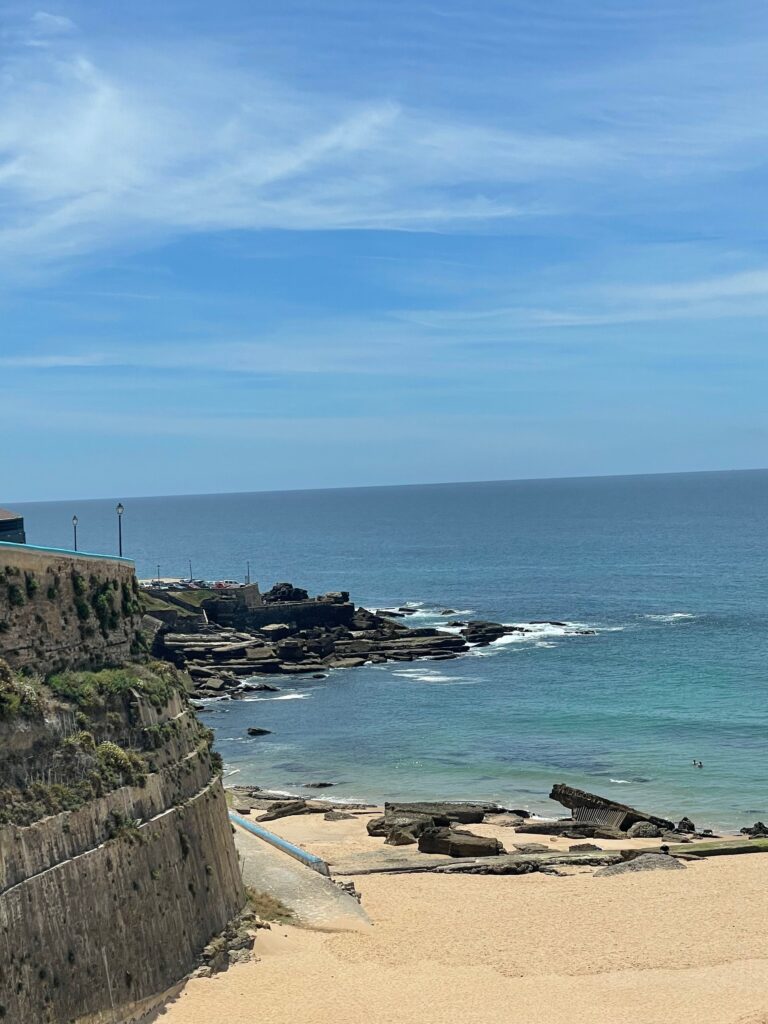 On Wednesday you have an opportunity to participate in the Sweat Lodge that the have. Only 10 people can participate and I highly recommend this. It is a very different spiritual experience that is difficult to explain, everyone experiences it differently. What happens at the Sweat Lodge stays at the Sweat Lodge so, I will say no more but you should definitely try it.
On Thursday after yoga and breakfast is a day off from the retreat and there is no supper that day. So we used this an opportunity to go to Sintra for the day. Again, we took an Uber which only cost about $40 euro and there were 3 of us and it was about 40 minutes from our place. Sintra was the home of Portugal's monarchs and is home to magnificent historical mansions and castles, all set against the backdrop of lush hillside. Wear comfortable shoes because you will be walking and hiking! Start at the top of the hill which is the Pena Palace and work your way down. After we explored the Pena Palace, we walked to the next site which was the Moorish Castle, they have buses that you can take which is #434 that will take you from one historical site to the next or you can walk. They do have a all you can ride ticket for about $11 euros for the day. So depending on how many sites you are seeing it can we worth it. The buses go by every 15 minutes but we found this wasn't every accurate.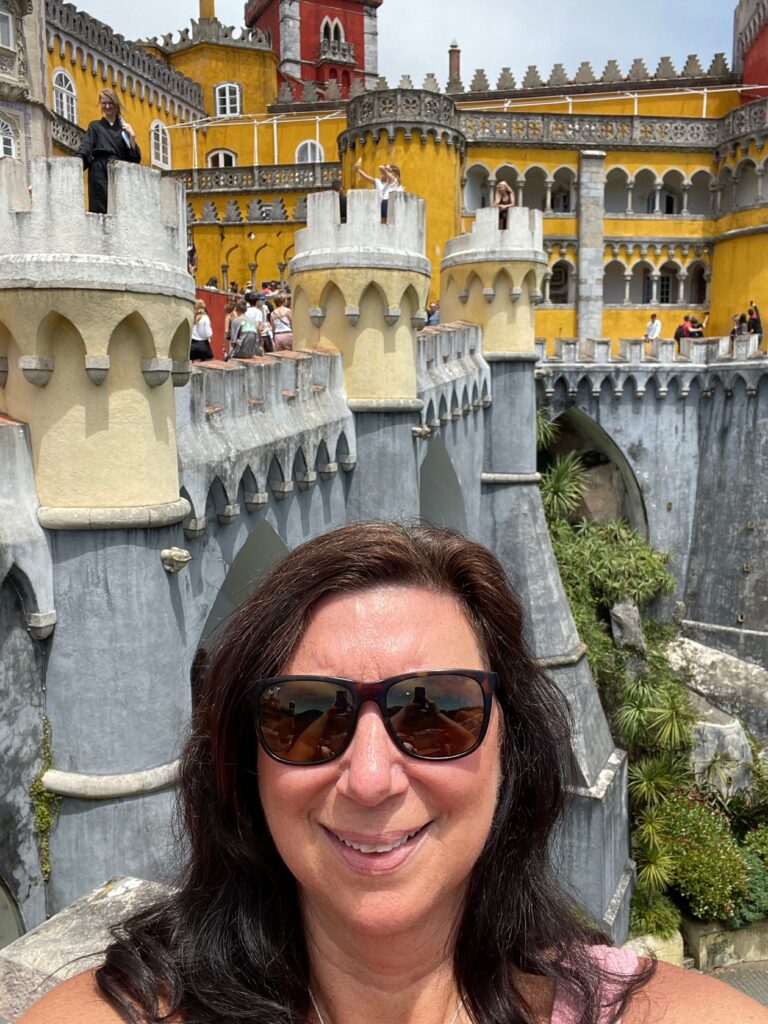 We were only able to see the Pena Palace and the Moorish Castle and that took us about 5 hours. Again, there's a lot of walking to be done and climbing. Even at the beginning of June and on a Thursday it was packed with tourist. I can imagine that in the summer and weekends it would be even busier. So keep that in mind. We finally took the bus back to the town of Sintra at 4:30 pm and found Cafe du Paris where we stopped for our evening meal and some drinks. Keep in mind many place close between 5-7 pm. I was able to find some vegan options at this restaurant and the evening was lovely. If you are foreigner please remember you are in Portugal and things move slow, not because the staff is slow but they want you to enjoy the people you are with and your meals are an experience to be enjoyed and not rushed through. Which can be hard to get use to, so expect this to take 3 hours and I'm not kidding. Once you take a breath and start to enjoy your surroundings and the people you are with, you'll appreciate this extra time to chat and learn about your new friends.
Our week is quickly coming to a close at Omassim and Friday is our last full day here. The day starts with yoga, breakfast and the surfers head out for their last lesson. It is very windy today and there is a surfing competition going on in Ericeira. The last lesson will be challenging with the waves to say the least. I spent the afternoon trying to avoid the wind but stay in the sun, journalling and gathering my thoughts for the week. This week has been transformital for my, body, mind and soul. I feel at peace, relaxed, accomplished with the improvement in my yoga practice, though my balance, oh my balance is still a work in progress. After our evening meal we all just sat outside eating and talking until late. I don't think anyone wanted the evening to end or to admit the week was over.
After breakfast, we heading to Lisbon for the final leg of our vacation, we had about 24 hours in Lisbon. We shared an Uber with another couple who were also staying in Lisbon for a night or two. We got to our hotel early and was greeted by the manage Manual who was amazing. Full of information and smiles, we left our luggage and heading for a coffee, while we waiting for our room. Our room was ready early and we settled in and then head out to see the sites of Lisbon. We were staying pretty central to the Time Our Market and the City Centre, so we could walk everywhere and it was quite flat, which I was thankful for.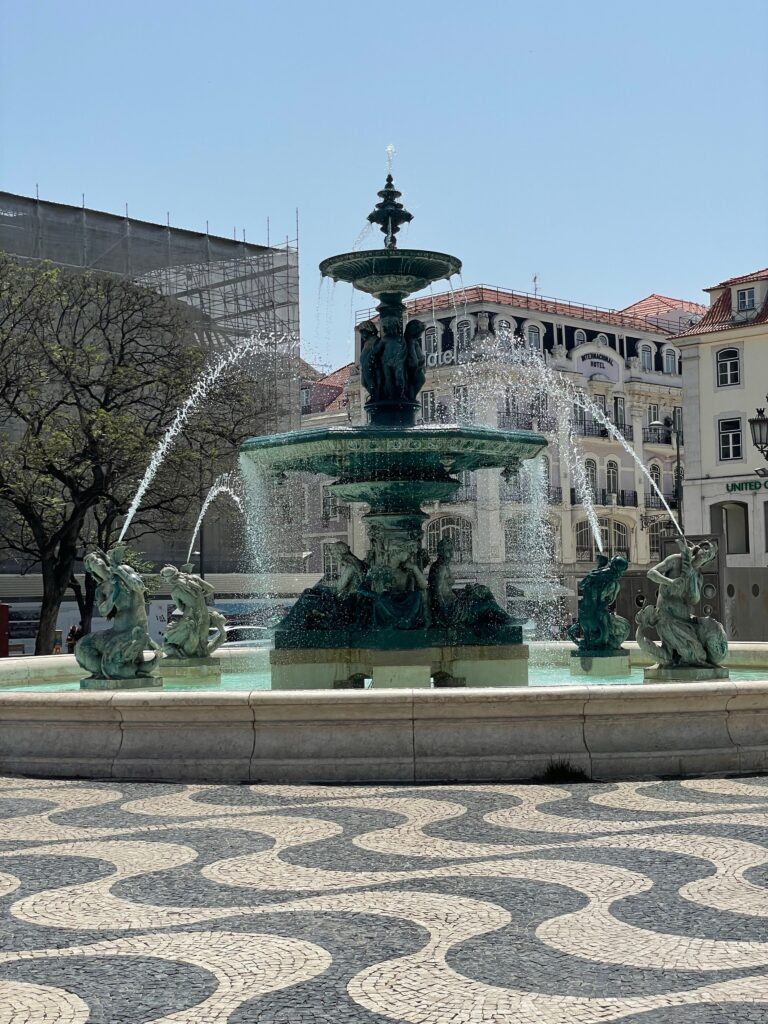 The Time Out Market is quite the place to be especially on a Saturday afternoon, it has about 30 of the best restaurants in Lisbon in one location. You can get just about anything and everything here. Vegan options were minimal but I was able to find a few. There are long lines at each place and then you have to navigate and tried to find a place to sit. It was fun to experience but next time maybe not on a Saturday. We continued to just to walk around, I found a vegan Pastel de nata at Zarzuela. Which I thought was delicious and it was also gluten free. We shopped, we had hang out and people watched and just absorbed all that Lisbon had to offer. We headed back to our room to freshen up and get ready for the evening. Now in Portugal things get going very late!! But since we had early flights we were going to be out extremely late. We found a night place with outdoor seating for early supper which was 9 pm and then join friends for some music and called it a night around midnight!
Heading to the airport was bitter sweet, I'm calm, relaxed and zen but looking forward to coming back and seeing more of Portugal. I have a 10 hour flight ahead of me. Sometimes we all need time to focus on ourselves and family. Spending this time alone with my daughter was priceless and we made memories we will always have. Never be afraid of taking what you need for yourself. Until the next adventure.