One of the basics in cooking is making a good vegetable stock or broth for cooking with. There are so many recipes to make a vegetable stock but I'm going to show you how to make your stock basically free and minimal effort! I don't like wasting anything in my kitchen or home if I can help it. So many years ago I started keeping the scraps from my carrots, celery, onions and other vegetables when I was preparing dishes. Carrot peels, onion skins and the ends, same with the celery and the stems of mushrooms and I would keep them in a freezer bag until I needed to make stock. Most of the vegetables nutrients comes from the skin.
This has now become a big thing everyone is freezing their scraps and making stock from it. It's so simple. I use my pressure cooker to make my stock but you can use a pot on the stove or even your slow cooker and let it go overnight. Add your frozen scraps to your pot, I like to add a few bay leaves to help it extract more flavors, garlic cloves and some herbs depending on what I am making with my stock. Adding italian season is a great all purpose seasoning, oregano, basil or leave it plain and you can adjust the flavors when you cook with it.
Don't have a use for it now, or have left over stock. freeze it in an ice cube tray. I love doing this and when I'm sauteing vegetables or need to add liquid to a dish, instead of adding water, I'll add 1 or 2 vegetable stock ice cubes, which will just add more flavor to what you are cooking
Why you need to make this
Budget friendly, basically free
Using your vegetable scraps instead of throwing them away
Easy to make, either in a pot, pressure cooker or slow cooker.
Minimal effort for maximum results.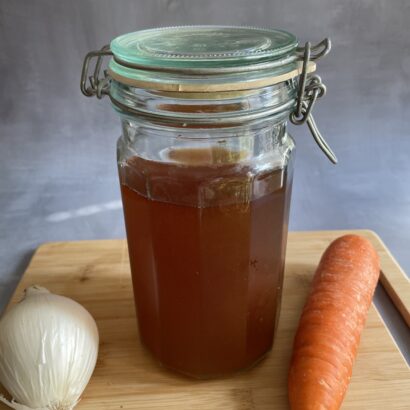 Easy Vegetable Stock
Equipment
1 Pressure Cooker

slow cooker
Ingredients
8

cups

water

3

garlic cloves

3

bay leaves

1

tbsp

peppercorns

1

tsp

salt

frozen vegetable scraps saved

see below
Instructions
To make this recipe, I save my vegetable scraps, including celery, onion skins, carrot tops and skins, garlic peels, mushrooms stems or any usable vegetable that might be going I put in a reusable bag in my freezer. When it's full or I need a stock I make this recipe.

This recipe can be made in an pressure cooker, slow cooker or just a large pot on the stove top. If you are using a slow cooker, put everything in the night before so when you wake up it's ready to go.

Add the frozen scraps to your pressure cooker, add enough water to cover your scraps. This will depending on the amount of scrapes you have(of course) Add your aromatics. Seal and set to 35 minutes. Let it naturally release for 15 minutes. Remove the lid and allow to cool.

Now strain the broth from the vegetable and use immediately or store in the fridge or freeze. I also like to freeze extra in ice cube trays so when I need liquid for water sauteing I can just pop a cube or two instead of water for extra flavor in my dishes.