I'm on the road again and this time it's to Paradise! Playa del Carmen to be exact. Time to recharge the batteries and have some fun. It's been cold and damp here in Chicago and I'm in need of the sun and heat even for a short time. Mexico has always been a go to for me. I love the people, landscape, history, culture and of course the food. Last time I was here I was vegetarian so, this time is much different! But I have done my homework and Playa del Carmen is the Vegan Capital of Mexico.
I was super lucky because when I rented the condo I'm staying in and happened to ask the host, he advised that his daughter had opened a vegan restaurant steps away from the condo. She has since sold it but it is still open. When I arrived late in the afternoon, starving, thirsty and tired, I literally walked 100 yards down the street and there was my oasis, "The Pitted Date". It has outdoor and indoor sitting, just in case your not quite use to the heat yet. We started with a refreshing fresh Red juice to hydrate after a long day of traveling. My partner and I shared a Chakra salad which was a warm beet salad which had a delicious maple balsamic glaze and cream cheese balls. I had the Mushroom Madness Panini which included a homemade lentil chickpea patty, sauteed mushrooms and sundried tomatoes. This was so delicious and filling. My partner had the Falafel pita. Staff is friendly here and sometime in Mexico they don't always have certain ingredients but they make things work. Portion sizes are large and we have leftovers to take back to the condo in case we got hungry later. The Pitted Date takes pesos or US dollars but they do not take credit cards so bring cash.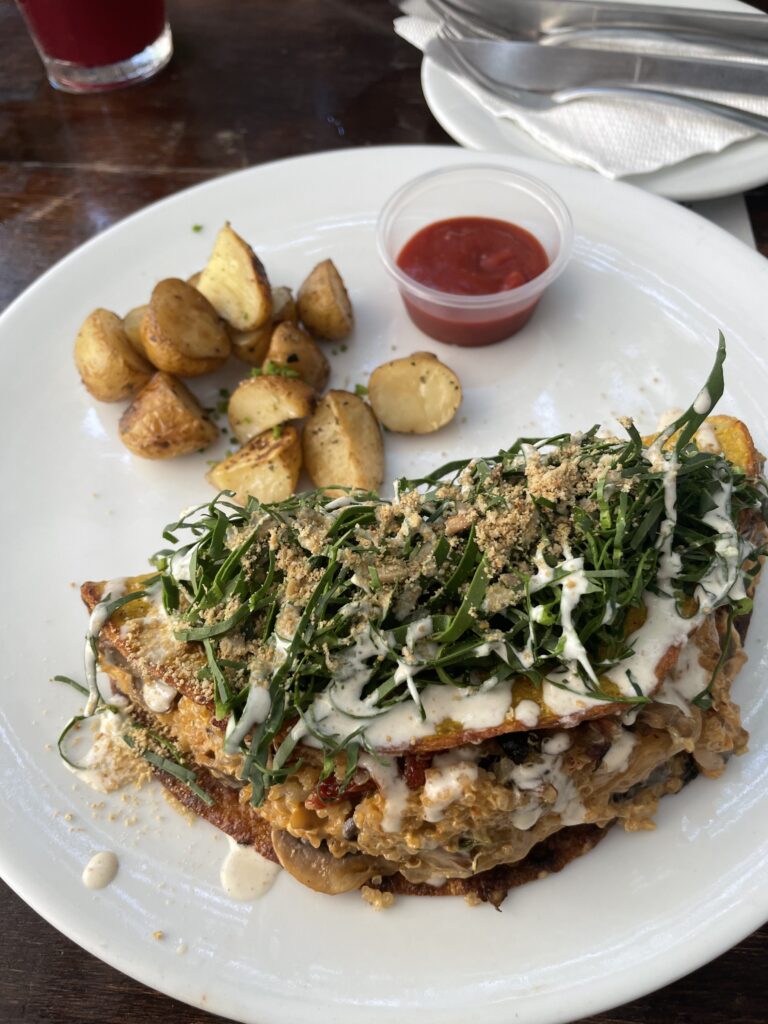 The next morning to keep things easy we actually headed back to The Pitted Date for a quick breakfast because we have a full day planned. We started our morning with fresh press juice again, it's the only way to start the day and they are so cheap here you can't say no. I had the Mushroom Bomblette. What is a Bomblette while, it's a high protein vegan omelette like I've never had before. We chatted with people here and one lady had been ordering these everyday for the last 6 days and I can tell you why? They are amazing, unique, like nothing I have had before. It has quinoa , sauteed mushrooms, caramelized onions, sun dried tomatoes, fresh arugula and mild chipotle wrapped in their vegan egg. My partner had the Chilaquiles with chorizo which was super spicy but addictive.
After a long day of sun and fun and I do mean fun, playing in the waves, walking the beach, checking out the beach clubs we were getting hungry. We showered and decided to try the Peace and Bowl. You will notice in Playa del Carmen that most restaurants will have vegetarian and vegan options. We picked the Peace and Bowl which is located Calle 30 nte Ave at 25 y Ave so we actually drove to this restaurant. There is street parking available. It's open 8 am – 10 pm. We were both impressed with menu. Again my partner is not vegan so there was option for him. It's known for fresh, healthy food serving fresh juices, smoothies, bowls. They have a variety of vegetarian, vegan and pescatarian food. It's actually a very interesting place made of of a couple of different places, a cafe/bakery, juice/smoothie and restaurant.
They had a separate evening menu. And yup we had another juice, Albino with cucumber, lemon, mint and basil was refreshing and a Demetriox with my favorite base of beet. For appetizers we started with chickpea croquettes which were so flavorful they didn't need a dipping sauce which just put them over them over the edge. We also had Red tacos which were fresh tacos served in radicchio leaves with chickpeas, they had crispy sweet potato for an extra crunch. I had the veggie panini with house made bread which was crispy on the outside but soft and delicious on the inside. This place is very eclectic with an inviting atmosphere where dogs are welcome. It's a great place to eat, or meet and hang out with friends. They a very small kitchen front and center and you can watch these two souls create these incredible masterpieces. You can tell there are a lot of regulars that come here, everyone is friendly and most speak english or they will try.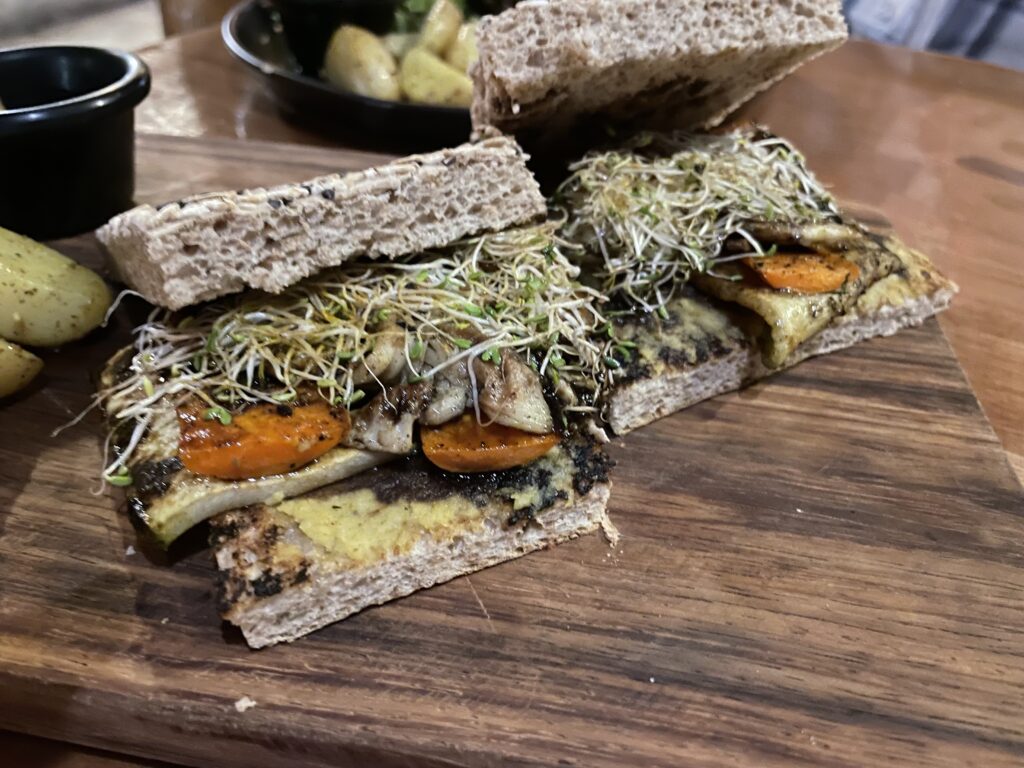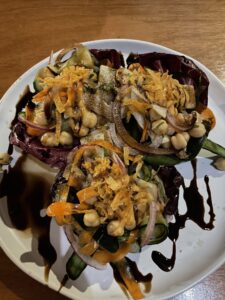 You'll see a trend here, back to Peach and Bowl for breakfast, my partner saw so many great things on the menu last night and we were going to be in the area that morning we went for breakfast. As the creatures of habits that we are, yup juices it is. No surprises here. Let's get those fresh nutrients flowing to jump start our day. The vibe during the day is much different in the daylight. More people with laptops working, eating their acai bowls, a slower pace. I had the vegan pancakes, which came with a coffee and juice, which I didn't realize when I order the other juice and frappuccino, yup I was buzzing on this day and well very hydrated. I will say I was disappointed in the pancakes they were very dense, but I was so full from the juices and frappuccino it was fine. I would later discover that finding fluffy vegan pancakes in Playa de Carmen is a difficult feet. Maybe I should share my recipe with them!! It's not that difficult.
So no trip to Playa del Carmen is complete without walking 5th Ave it's the main street here with all the shops, restaurants and bars. You can find anything here. There are a lot of barkers as they are called trying to get you into their store. Quite a few restaurant will have live music, so you can stop and have a drink and listen to live music. During our week he have listen to some incredible voices. Usually duos with just a guitard and their voices and let me tell you some of these people should have recording contracts.
As we walked back to our place along 5th Ave heading north, we came upon Bio and Natural, which was on our list to try. Hungry, like we normal are, I mean who isn't. We stopped in. The sitting is along a more quiet part of 5th Ave it is is covered to provide shade from the sun and heat. Serve can be slow, so don't be in a hurry but they are friendly and it's a great place to relax. Enjoy the juices and their food. Again, vegan, vegetarian and gluten free options here and they have a store inside if you need to buy anything or if your staying longer.
You guessed it, started we some great juices, I had the liquid gold and a cold detox! I though my partner would have an issue with the spirulina but they disguised it well. We shared the BBQ cauliflower wings which were so crunchy and dripping in sauce which definitely hit the spot! It was brunch time, so I had the Teriyaki bowl which was gluten free and a mixture of warm and cold additions. It had noodles, teriyaki tofu, edamame with roasted tomatoes and cold wakame. There were leftovers to bring home for later by the pool!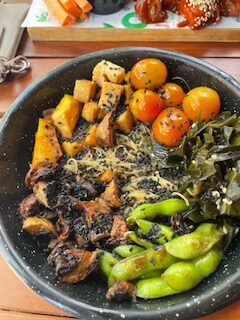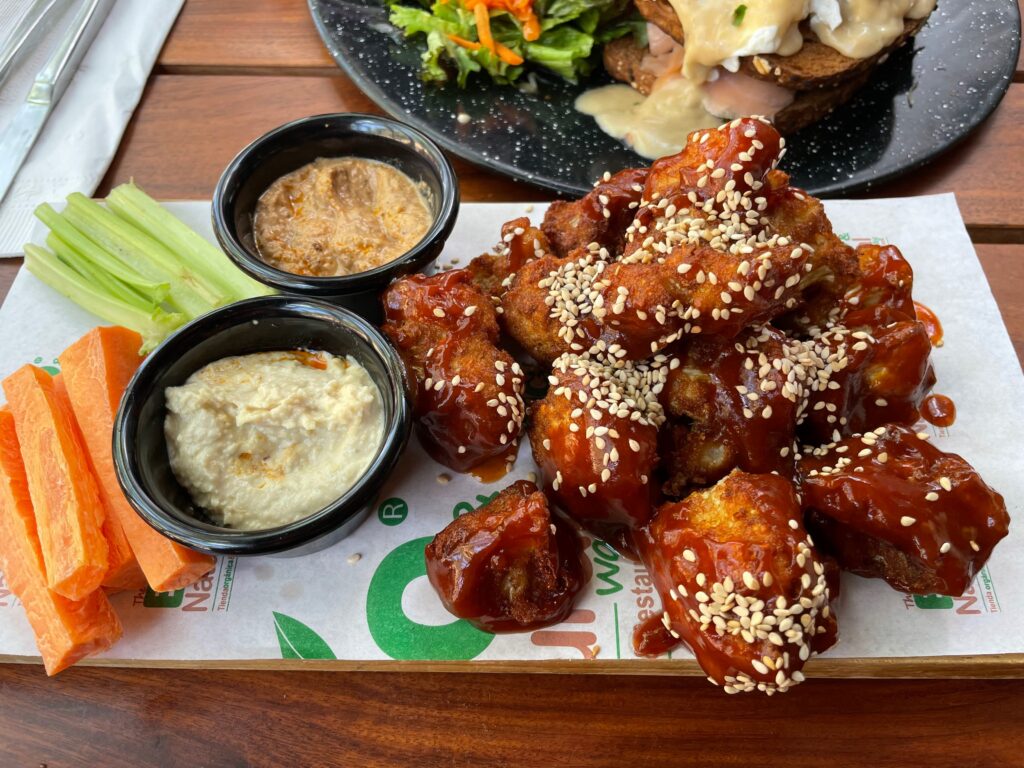 We ventured to Bio and Nature for breakfast the next day to be disappointed by their vegan pancakes. To look at them they were picture perfect, peanut butter, banana, strawberries, but at last, they were dense! I don't know if this is a thing here? They were edible and my partner enjoyed both of his dishes here. He's included eggs, so not vegan.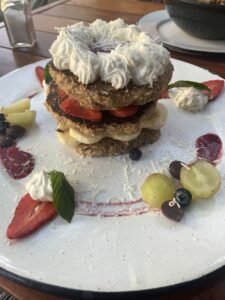 We also went to La Cueva del Chango for supper, it's a great atmosphere which gives you a feeling of being in the jungle, located on Called 38 Nte., although they have a vegan menu my choice this night was obviously the wrong choice. I had the stuffed poblano chili pepper which was still raw and was cold. It was a disappointment unfortunately.
We also wanted to try Plantivoros for Mexican food on Calle 32 esquina 40 Ave, which we heard great things about and Fesco Habito on Calle 1 Nte. which we will have to save for next time. I have to say finding vegan food in Playa del Carmen was so easy and so delightful. Everywhere you look you can always find something even if it's just salsa or guacamole and chips or a veggie burger. Being in paradise with the sun caressing your skin, the warm breezing and swimming in the cool ocean water and enjoy the creative vegan food scene and people here has been another wonderful experience. Until next time Adios!