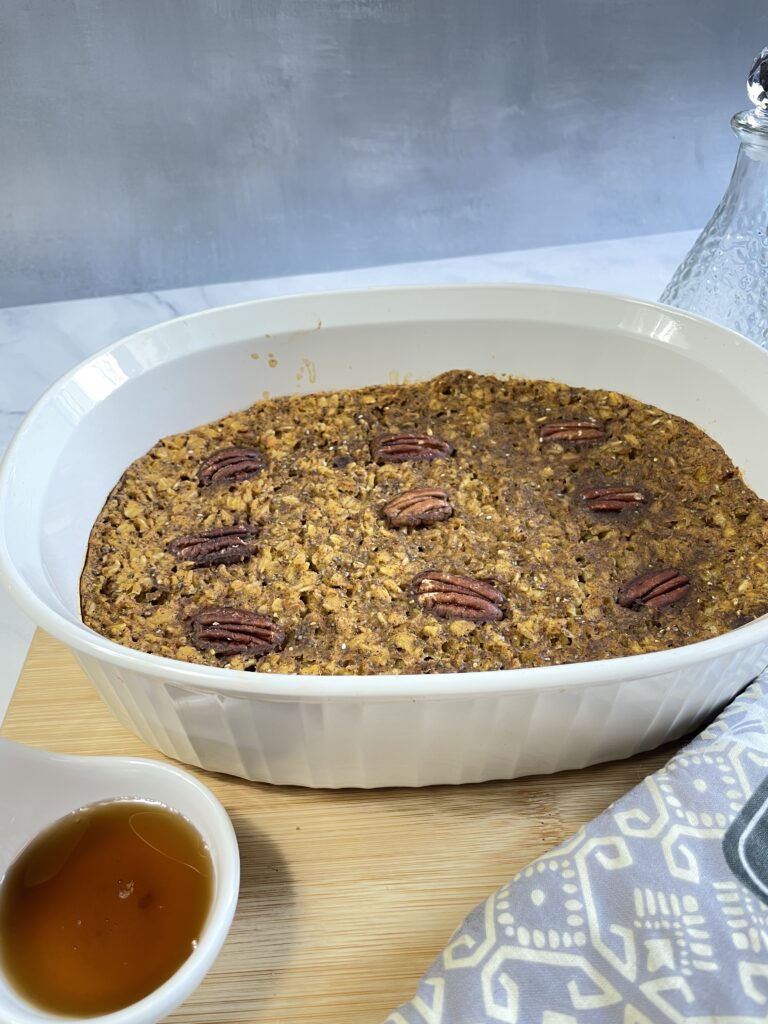 Jump into fall with Pumpkin Spice baked oatmeal, I love the warm spices of pumpkin spice blend it invokes cozy fall feelings. Easy to make, delicious, vegan and plant based. Hearty enough to fill you up and keep you going until lunch. If you have been around my Youtube channel or my blog you know this girl loves her pumpkin and I make something pumpkin at least once a month and I always stock up on pumpkin puree. Pumpkin is so healthy and has countless health benefits you should be adding more to your diet on a regularly basis.
Baked oatmeal is one the easiest breakfasts to make and keep in the fridge or freezer, budget friendly, and meal prep worthy. Toss a few ingredients into a bowl and bake for 30 mins and you have a healthy, oil free, dairy free and vegan meal for the family. You can make them in a muffin pan and have individual servings that can be easily frozen for later in the week.
What are those simple ingredients, that's easy, rolled oats, pumpkin puree, flax seed, maple syrup and of course pumpkin spice blend.
Oats are the most nutrient dense food, which happen to be a good source of carbs, protein and fiber. Oats contain manganese, iron, B vitamins and are high in antioxidants call polyphenol and are high in soluble fiber which has been shown to help lower both total and LDL cholesterol.
Pumpkin puree is low in calories at 40 calories for 1/2 cup, but high in vitamin A, C and E, beta carotene, folate and iron which helps to boost your immune system. High in fiber which will keep you feeling full longer and may help to aid in weight loss. Rich in Vitamin A and provides carbs, fiber and small amount of protein along with minerals. It is high in beta carotene, a carotenoid that your body turns into vitamin A which is great for your eyesight.
Pumpkin Pie Spice blend includes 5 warming spices, cinnamon, ginger, nutmeg, allspice and cloves. You can easily buy this spice blend or just make your own and you are able to tweak it to your liking. Some recipes don't include the allspice but I love that extra flavor that it brings here.
Flaxseed is replacing our egg in this recipe and keeping it plant based. If you are vegan you are very familiar with a flax egg and using it as an egg replacer. Flaxseed contains soluble and insoluble types of fiber and crucial omega-3s that our bodies need and great at kicking inflammation to the curb. Not only does it have fiber but provides a good source of protein, fat, carbs, calcium, potassium and magnesium. A total winning package. In order for it to be properly absorbed it needs to be ground.
Why you need to make this Pumpkin Spice Baked Oatmeal
Great for meal prep and freezer friendly
Vegan, gluten free, oil free
Make these into muffins for individual servings
Full of cosy fall flavors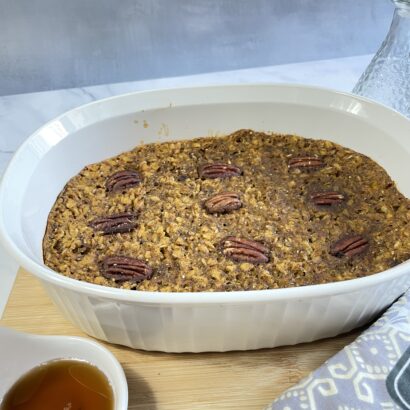 Vegan Pumpkin Baked Oats
Ingredients
2

cups

old fashion rolled oats

1

tsp

baking soda

2

tsp

pumpkin pie spice blend

1.5

cup

unsweetened plant based milk

3/4

cup

pumpkin puree

1/4-1/3

cup

maple syrup

1

tbsp

flaxseed

1/4

cup

walnuts or pecans (optional)
Instructions
Preheat oven to 350 degrees F

Prepare pan if needed spray with non stick spray

In a bowl combine the dry ingredients and combine.

Add the wet ingredients and stir well to combine.

Pour into your prepared pan.

Bake for 30-35 minutes, until the center is set. Store in refrigerator fo 4 days

To reheat individual portions, set oven to 350 degrees F and bake for 5-10 minutes or microwave for 1 minute